Appliance Repair
Smart Appliances: The Hottest Stove Technology on the Market
October 7th, 2015 by
The kitchen technology market is constantly expanding, and with each passing year, manufacturers create new appliances that are sleeker and smarter. Some of the latest "smart ranges" are equipped to make cooking a breeze.
Today, homeowners can buy kitchen appliances with new features and gadgets like touchscreens and stereo sound. One of the most popular appliance features is kitchen automation, a component of whole-house automation. This new technology allows homeowners to monitor or control appliances over Wi-Fi through smartphone or tablet apps. Read on to find out more about the benefits related to using smart range apps.
Smart Range App Features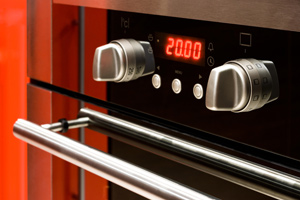 Temperature and cooking modes. Most of these apps allow individuals to adjust the temperature and cooking mode of their range, enabling them to cook and monitor their meals from remote locations after placing the dish in the oven. Some of the common cooking modes that can be accessed with the app are defrost, bake, broil, and roast. Once the cooking time has elapsed, some ranges will switch to warming mode to keep the food ready for mealtime.
Timers. Another useful feature of apps for smart stoves is the timer. The timer can be turned on and off and adjusted through the app. People can monitor how many minutes they have left before the cooking is done, and they are given the approximate time that the meal will be finished. When the timer goes off, some apps will notify cooks with an alarm, and others can actually send a text.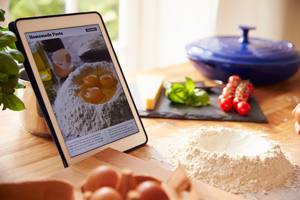 Recipes. When people need meal ideas, their smart range app can help. Some apps come with a recipe option, which allows individuals to search through meal suggestions. Once a recipe has been selected and the meal is ready to cook, the app will set the range to the appropriate temperature and cooking time.
Maintenance. Ovens need regular cleaning and maintenance, and certain smart range apps assist with that. Individuals can set their smart appliance to self-clean mode through the appliance's app. Most smart oven apps activate traditional oven cleaning settings, but other cleaning options are sometimes available. For instance, some stoves offer light steam cleans, which are considered "green" and can remove light stains in 30 minutes.
Before leaving hot ranges unattended, it's important to be cautious. As with all new technology, there are occasionally bugs and errors with appliance apps. Homeowners should consider going through a trial period to be sure that all of the functions work properly. However, when the proper precautions are taken, smart ranges can be a very efficient and convenient kitchen addition.
Our companies are backed by the Best Pick Guarantee. Call one today!