Housecleaning Services
Follow the Best Pick Reports Chore Schedule: The Kitchen
August 7th, 2015 by
With hectic daily schedules, keeping a home clean can take a great deal of effort, especially in problem areas like kitchens. Maintaining a clean kitchen is well worth the effort, though, because a messy kitchen can be a serious health hazard. A dirty refrigerator can lead to food contamination, and a greasy range hood can cause house fires. Fortunately, a household chore schedule can help even the busiest homeowner keep a clean kitchen and avoid these kitchen dangers.
Everyday Tasks for a Clean Kitchen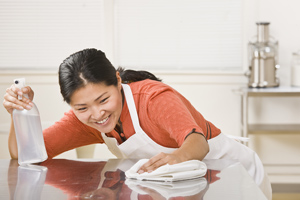 Countertops and sinks. A lot of bacteria can accumulate on countertops. Wiping down the sink and the countertops every day can get rid of the germs, and it only takes five minutes.
Appliances. Appliances can get dirty rather easily, so they should be disinfected on a regular basis. The doors and handles of the oven, microwave, dishwasher, and refrigerator should be wiped down every day in addition to the stovetop and the interior of the microwave. The job takes about ten to fifteen minutes.
The floor. After every meal, consider sweeping the floor and wiping up sticky spots and dirt. It only takes five minutes and makes mopping later on much easier.
Periodic Kitchen Cleaning Tasks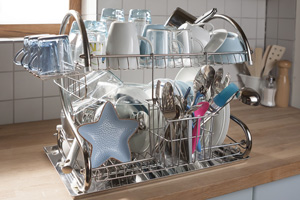 The dish rack. Clean dishes shouldn't be placed in a dirty dish rack, but unfortunately, the dish rack is commonly neglected in cleaning routines. Periodically soak the dish rack in soapy water for five minutes and wipe it down.
The cupboards and the pantry. A disorganized kitchen leads to dysfunction, so it's important to keep the tableware and food goods organized. While you organize, be sure to wipe down the shelves. This job can take a little while, but it's worth it.
Backsplashes and range hoods. A lot of grease and grime can accumulate on backsplashes and range hoods. Take a few minutes to regularly wipe them down.
The floor. With all the dropped food bits, the kitchen floor will need to be mopped frequently. The task can take 15 minutes or more, but it will be easier if you're already spot cleaning every day.
Occasional Cleaning Tasks for the Kitchen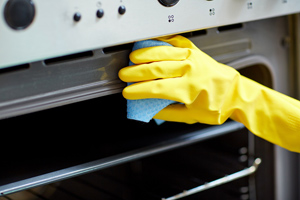 The garbage can. Garbage cans can be particularly dirty, germy items. They should be occasionally cleaned with bleach or with a watering hose. The job may take ten minutes or so.
The oven. A dirty oven can produce unpleasant house smells. To combat this, let the cleaning products set, and take 15 to 30 minutes to manually clean all areas. Alternatively, you can use the oven's automatic cleaning cycle.
The dishwasher. Even the dishwasher needs to be cleaned every once in a while to get rid of any leftover food and soap residue. Clearing the drain, washing the dishwasher with vinegar, and finishing with baking soda will take will take some time, so plan ahead.
The refrigerator. It's important to occasionally clean the refrigerator. Old food should be thrown away, and the shelves and walls should be wiped down with cleaning products. Emptying, cleaning, and restocking the fridge and freezer could take an hour or more.
The silver. Depending on how large your collection is, it may take about 30 minutes to polish the silver. It's a necessary task, but it isn't needed often.
The floor. Beyond sweeping and mopping, the kitchen floor may need to be cleaned and polished or given a protective coating. Homeowners can do these things themselves or contact a Best Pick Flooring contractor.
A tidy kitchen is just the beginning. A weekly chore schedule can keep every area of the home in tip-top shape.
Quality matters when hiring for a big project. Call a Best Pick now!