Housecleaning Services
How to Prepare Your Home for Holiday Guests
December 17th, 2015 by
With the holidays around the corner, it's likely you'll be hosting friends or family at some point. Whether you're throwing a holiday party or having relatives stay with you for an extended period of time, it is important to know how to be a good host. Preparing for guests doesn't have to be stressful, though. Use the hosting tips below, and you'll be sure to make a positive impression on your visitors.
Do a Deep Clean
Think about the areas that your guests will likely be using the most, and focus on getting them in good shape. If you have the time and money, it may be worth it to hire a professional housecleaning company.
Regardless of whether you have guests coming, it is helpful to develop a cleaning routine that ensures your home will always be in relatively tidy condition in the case of unexpected visits. When you have advanced notice of guests, you can use the chore schedules we've put together for the kitchen, bathroom, living spaces, and bedrooms.
If you're hosting some last-minute guests, run through our housecleaning checklist to make sure you don't forget anything important, and save time by learning how to clean your bathroom in just 15 minutes.
Guest Bedroom Ideas
It can be difficult to think of ways to make your guest bedroom feel welcoming and comfortable for your guests. Start by brainstorming what their basic needs might be, and make sure to have the following items available and accessible: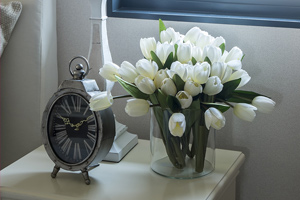 Lamp
Alarm clock
Water bottles or a bedside carafe and cups for water
Tissues
Toilet paper
Clean towels
Extra blankets
Closet and drawer space
Next, consider how you can put a personal touch on their room. Guests will be honored that you took the time to customize the room especially for them. Here are some personalization ideas:
A selection of magazines or books with subject matter they're interested in
A basket of their favorite snacks
A stock of their preferred brand of toiletries
Candles in a scent they like
A vase of fresh flowers
Guest Bedroom Alternatives
If you don't have a spare bedroom, there are still plenty of other guest bed solutions. Any of the following can work as a temporary mattress for guests:
Sleeper sofa, daybed, or futon
Comfortable couch—even without a pull-out bed
Recliner
Hammock
Inflatable mattress
Just remember to ensure that guests will still have some privacy if they will be staying in an open area of your home, such as the living room.
Other Hosting Tips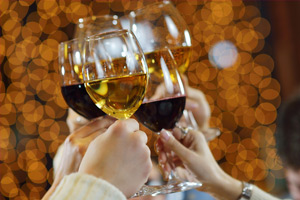 Make sure you're aware of any allergies and dietary restrictions or preferences your guests may have prior to planning your party menu or stocking up your pantry. They will appreciate the forethought, and you will save yourself the trouble of preparing food that no one will eat.
Have a good supply of all the essentials on hand—ice, beverages, food, toilet paper, etc. Running out of any of the basics can put a damper on festivities and make you look ill prepared.
Be flexible. No matter how thoroughly you plan, accidents happen and things change. Maintain your composure and go with the flow. Guests will be impressed by your positive attitude and ability to roll with the punches.
Stressing about how to host guests for the weekend is really not necessary. With a little thoughtfulness and creativity, you can wow your friends and family with your hosting abilities and guarantee that they enjoy their visit.
Quality matters when hiring for a big project. Call a Best Pick now!