Chimney & Fireplace Work
Fireplace and Chimney Maintenance in the Winter
November 23rd, 2015 by
Fireplaces are a great source of heat, but they can also be very dangerous. According to the US Consumer Product Safety Commission (CPSC), the heating and cooling equipment that causes the most residential structure fires are fireplaces, chimneys, and chimney connectors. However, practicing proper maintenance during months of increased fireplace use can help prevent this danger. Listed below are five winter maintenance tips for wood-burning fireplaces.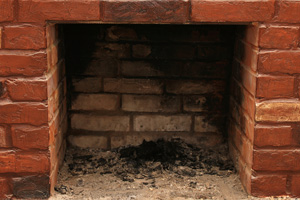 Remove the ash. During winter months, it is important to watch the ash levels in the firebox. Too much ash can cause fires to burn out quickly. Homeowners should remove ash regularly—just not after every use. Leaving an inch of ash in the firebox makes it easier for homeowners to build and maintain a fire. The ash that homeowners remove can be disposed of or put in a fireproof container and used for other purposes. Ash makes great compost in gardens, and it can be sprinkled on concrete to melt ice.
Clean the glass doors. Over time, soot sticks to the glass doors of the fireplace, and removing the buildup from the glass is important for maintaining a clean firebox. Clean doors also mean a clearer view of the fire and a cozier atmosphere. To clean the glass, some experts suggest using a razor blade to remove thick soot layers and using soap and water to clean the thinner layers. Homeowners can even use fireplace ash to clean glass doors by scrubbing the area with newspaper that has been dipped in water and then in a pile of ash.
Clean the hearth. Just as with the glass doors, the hearth of the fireplace can also be stained by soot. Keeping the outer hearth clean and soot-free means regular cleaning (about every six weeks). Concrete hearths can be cleaned with oxygen bleach; slate hearths require water and hydrogen peroxide; and for brick hearths, homeowners can use water, a scrub brush, and a special brick cleaner. Read more about how to keep your fireplace properly maintained.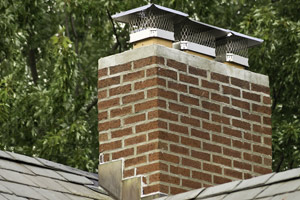 Remove debris from the roof. Even during winter months, a lot of debris can land on the roof, and leaves and pine needles that fall into a chimney can lead to hazardous situations. Fortunately, chimney caps help reduce this risk. During active fireplace season, homeowners should also check the roof for any broken tree branches that may have fallen due to storms. All branches and debris should be cleared from the chimney area before using the fireplace again.
Check the smoke alarm. A properly working smoke alarm is essential for winter fireplace maintenance. Smoke alarms should be placed inside and outside of each bedroom and on every level of the house. Homeowners should check the alarms once a month to ensure that they are working properly.
Fireplaces are often the focal point of the room. Keeping them clean—both inside and out—helps prevent fires and makes the room look tidier. After winter is over, homeowners should consider contacting a Best Pick chimney sweep to do more in-depth cleaning and maintenance work. Working with a professional also provides the opportunity to ask for specific fireplace maintenance tips and better prepare for the next winter season.
Our companies are backed by the Best Pick Guarantee. Call one today!