Landscaping
5 Ways to Enjoy Your Outdoor Space During the Winter
November 2nd, 2015 by
Many people retreat indoors when temperatures fall, which means their outdoor space goes unused for a significant portion of the year. However, yards are not just for spring picnics and summer barbecues. If you're at a loss for ways to utilize your yard and deck throughout the cooler months, read on for some winter landscaping ideas from the team at Best Pick Reports.
Revamp Your Deck
Cold weather is no excuse to avoid spending time on your patio or deck. Cozy up your outdoor seating by adding outdoor pillows and cushions as well as a rug to set apart the space. Other options for creating an inviting atmosphere despite chilly temperatures include an outdoor heater or fireplace and other open-flame lighting.
Build a Fire Pit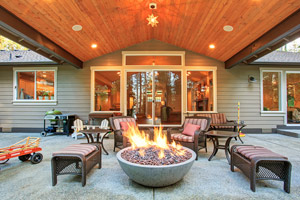 Expand your wintry entertainment beyond the deck by constructing a fire pit in your yard. Fire pits are relatively easy to build yourself, and they can be customized to fit any setting. Toasty fires create a welcoming ambience for telling stories, watching snow fall, and roasting marshmallows or other flame-friendly foods.
Winterize the Landscape
Instead of mourning the year's dying plant life, why not cultivate greenery that thrives in winter? HGTV and Landscaping Network suggest a few cold-weather plants—like evergreens, berry-bearing shrubs such as holly bushes, and seasonal flowers like poinsettias—that make charming winter landscaping additions. Don't forget to incorporate hardscape features as well; decorating retaining walls and arbors with snowy limbs or twinkling lights can really paint a winter wonderland scene.
Call in the Birds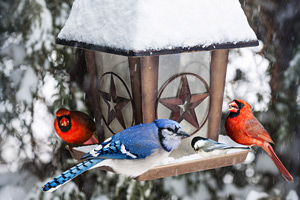 Some of the most beautiful birds stick around for the winter. Liven up your yard with the colorful plumage of cardinals, blue jays, and robins by putting out birdhouses and feeders. Birds shy away from getting their feathers wet when temperatures drop too low, but feel free to set up a birdbath to give them access to drinking water. While the water may freeze, the birds won't, and they'll appreciate the water when it melts.
Break out the Holiday Decor
There's no better way to show you enjoy your outdoor space than by decorating it for the seasons. Turn your yard into a holiday haven, and adorn it for the winter festivities you revel in the most. From Christmas lights to Yuletide candles to New Year's streamers, there are countless ways to demonstrate your affinity for winter. You may even want to hire a professional to help your winter décor stand out from the crowd.
Winter weather makes for some of the most beautiful scenery, so don't neglect your home's exterior just because it's cold out. Enjoy your outdoor space to the fullest by figuring out what will inspire you to spend time outside in spite of the brisk air.
Quality matters when hiring for a big project. Call a Best Pick now!