Awnings and Shade Solutions
Up or Down? It's Your Choice With Motorized Awnings
October 30th, 2015 by
This article was crafted with the help of Peter Giglio of The Deck Awning Company, Inc.
Do you have a deck that you would love to use more often if only you could do so without roasting in the sun? While building a new deck in a less sunny location is certainly an option, it can be a rather costly endeavor. Fortunately, you can elect to install a deck awning instead, which can make it possible to enjoy an overly sunny deck on even the warmest of days. Awnings come in one of two forms: fixed or retractable—and retractable awnings can be withdrawn by either a hand crank or a motor. We talked to Peter Giglio, president of The Deck Awning Company in Maryland and Washington, DC, to find out what makes motorized retractable awnings the most attractive choice.
Why You Should Consider Adding an Awning to Your Deck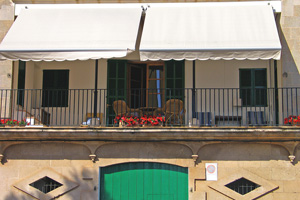 "The obvious reason to install an awning is that it makes a hot, sunny deck that's unusable, usable," Peter states, although deck awnings have a host of other benefits as well. By blocking the sun, an awning not only keeps your deck cool but also allows you to enjoy the space even when it is raining. Additionally, deck awnings shield outdoor furniture, rugs, and decor from the elements, which limits weather-related wear and tear and prevents fabrics from fading due to sun exposure. If you already have an awning, then consider converting your under-deck space.
Things to Keep in Mind When Selecting an Awning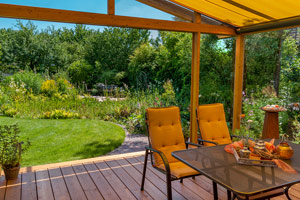 Deck awnings tend to be rather large, and according to Peter, it's a good idea to go with a motorized awning if you're planning to install one that is wider than 12 feet. Regardless of which type of retractable awning you select, for a quality awning, "the frame should be made of aluminum with a powder-coated finish, and all the hardware should be stainless steel. For the fabric itself, the best material is woven acrylic," Peter says. Awnings made from these materials are the most durable and should hold up through a variety of weather conditions.
A commonly underemphasized yet important factor to consider when deciding between a manual retractable awning and a motorized one is ease of use. Because motorized retractable awnings are less of a hassle to open and close than awnings that are retracted via a hand crank, homeowners are more likely to actually close them. Peter points out that "the more an awning is open, the more susceptible it is to wind damage, bird droppings, or tree branches. The more you can close it when you're not using it, the better. Motorized awnings tend to last longer because they get closed up more often." If you think you might be less likely to withdraw your deck awning if you have to do so manually, it's worth it to invest in the convenience of a motorized one.
How to Care for Your Deck Awning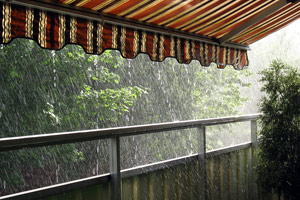 While retractable awnings should be closed during windy and rainy weather, Peter says they aren't designed to be removed, even in winter. He explains that some companies offer an optional hood to cover the awning when it's retracted. If you don't have a hood, he advises covering your awning with plastic to protect it during the winter. According to Peter, motorized retractable deck awnings don't require any maintenance and typically last for many years. He states, "We've been putting them in for 20 years, and so far, we haven't had to replace any awnings. Sometimes the fabric needs to be replaced, but the fabric has a ten-year warranty and usually lasts a lot longer than that."
Deck awnings are an excellent way to get more out of a less-than-ideal deck without breaking the bank by renovating it or building a new one. In addition to expanding your usable deck space, motorized retractable awnings afford the convenience of being able to open and close them at the push of a button. Regardless of what type of awning you decide on, a deck awning that has been customized for your space will allow you to enjoy your existing deck for years to come.
This spotlight article was crafted with the help of The Deck Awning Company, Inc., an Awnings Best Pick in Maryland and Washington, DC. While we strive to provide relevant information to all homeowners, some of the material we publish may not pertain to every area. Please contact your local Best Pick companies for any further area-specific advice.
Quality matters when hiring for a big project. Call a Best Pick now!