Awnings and Shade Solutions
Retractable Screens: Now You See Them, Now You Don't
October 28th, 2015 by
A home's comfort level is largely dependent on window screens. Screens are responsible for allowing cool breezes in and keeping unwanted pests and debris out. Unfortunately, traditional window screens can be cumbersome and obstruct the view from windows, and they must be removed in order to clean the outside glass of windowpanes. Retractable window screens solve these problems by offering homeowners the same benefits as traditional screens while providing easier maintenance, clearer views, and a more stylish look.
Design Elements to Consider for Retractable Window Screens
Colors and styles. Retractable window screens are rolled and housed discreetly within the frame or in a stylish cassette placed over the window frame. Screen systems typically come in different colors and finishes, which allows homeowners to better match them with their home decor. Traditional color options include white, ivory, brown, black, and gray, but some companies even offer custom colors for more variety. Cases may also come in diverse styles and shapes to match the surrounding space.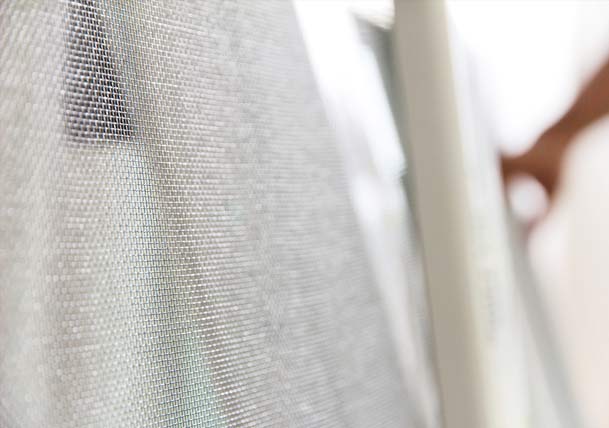 Mesh. The mesh in retractable screens can vary, but typically, a fiberglass mesh with a gray-like finish is used. For a better view out the windows, some people choose clear or "invisible" mesh, which is also made from fiberglass. Mesh comes in different sizes for different purposes. Practically any mesh can keep out bugs, but mesh with thicker wires and smaller spaces can also block out sunlight. This type of mesh not only reduces heat and glare, decreases energy bills, and helps prevent the fading of furniture and flooring, but it also provides a higher degree of privacy.
Automatic or manual functions. Most retractable window screens are operated manually, and the tracks need to be regularly lubricated for easy operation. However, for larger windows and patio spaces, there is a motorized option where screens can be controlled with switches on a wall or with a remote control. Some window screens can even be programed to extend or retract automatically with special sensors that detect the sun's intensity. The sensors can also recognize high wind speeds and raise the screens to keep them from getting damaged.
No matter the color, material, or operating function, retractable screens are a great design element. They are easy to use as well as elegant and versatile, making them a useful addition to any home.
Quality matters when hiring for a big project. Call a Best Pick now!