Flooring
How the National Wood Flooring Association Has You Covered
July 22nd, 2015 by
Investing in flooring can be a costly endeavor. The materials, labor, and regular maintenance required to keep your wood flooring in tip-top shape can total thousands of dollars over the years, and having the right information up front can ensure that homeowners spend that money on quality flooring and superior installers. Fortunately, the National Wood Flooring Association can help homeowners educate themselves.
What Is the National Wood Flooring Association?
The National Wood Flooring Association (NWFA) provides information and resources about wood flooring to consumers, manufacturers, and laborers. The non-profit company provides education and training courses for technicians, hosts expos within the industry, and produces magazines and other publications. The organization also certifies wood flooring professionals throughout the country.
Why Should Homeowners Use the NWFA as a Resource?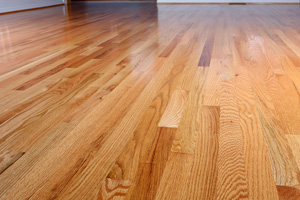 NWFA Certified Professionals. Homeowners in need of a trusted wood flooring expert should consider using an NWFA-certified professional. The association has official certifications for installers, sanders/finishers, wood flooring inspectors, dealers, retailers, and sale advisors. To qualify, the NWFA requires that people have years of experience, participate in NWFA-approved training courses or workshops, abide by specific codes, and take exams. The certifications are maintained with annual training to ensure that homeowners hire the best wood flooring professionals with the most up-to-date knowledge.
The Responsible Procurement Program. Homeowners who want "environmentally and socially responsible" wood flooring should consider purchasing from manufacturers with the NWFA Verified from US Renewing Forests seal. The certification was developed through a partnership between the NWFA, the Rainforest Alliance, and the Forest Stewardship Council. Wood with this label comes from US forest regions where the growth exceeds the removal rate, which is reassuring for environmentally conscious homeowners.
NWFA Standards Program. When looking for quality flooring, homeowners should consider the NWFA's Certified Manufacturers programs. Buying flooring with this NWFA seal means that the wood exceeds industry standards, and participants in this program must meet the NWFA's quality standards. The program has strict guidelines for the configuration, grade, finish, gloss, moisture content, and average board length of the wood. The mills are also checked biannually to ensure that consumers receive top-quality wood flooring.
Hardwood Information Database. The NWFA website for consumers can help undecided homeowners pick the perfect wood flooring. They have a database full of wood flooring information and pictures, allowing people to find different types of wood based on appearance, species, type, finish, and style. The NWFA website also offers maintenance information that can help after the flooring is installed, including finishing and repair work.
Beyond the certifications and the database, the National Wood Flooring Association offers a wealth of other materials that may be beneficial for homeowners.
Quality matters when hiring for a big project. Call a Best Pick now!