Closet & Garage Organizers
Follow the Best Pick Reports Chore Schedule: The Bedrooms and Stairs
August 14th, 2015 by
At the end of a busy day, a homeowner needs a tranquil space for relaxation, not a cluttered bedroom. Messy surroundings can make it difficult to fall asleep, causing serious health consequences. While the previous installments in this series on weekly chores focused on the kitchen, bathrooms, and living spaces, this final blog post offers cleaning tips for the bedrooms and the stairs.
Tasks for Everyday Bedroom Cleaning­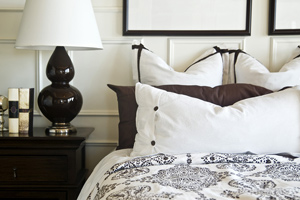 The bed. Take a few minutes every day to make the bed—the whole room will feel cleaner and more organized. It also helps the room feel more welcoming and relaxing at night.
The closet and the dresser. In the morning shuffle, clothes in the closet and dresser can get a little disorganized. Dressers, especially the top surfaces, can accumulate a lot of random items, like spare change and pieces of paper. Keeping these areas organized takes about five minutes, and it can save valuable time in the long run.
The other surfaces. Nightstands, shelves, bookcases, and other bedroom furniture pieces are often covered with misplaced items, like clothes, dishes, and tissues. Once or twice a day, be sure to clear these areas to create an orderly space.
Periodic Tasks for Bedrooms and Stairs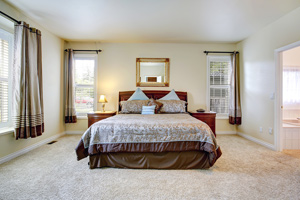 Knickknacks and surfaces. Much like common living spaces, bedrooms are often filled with items that attract a lot of dust. Dusting picture frames, jewelry boxes, and mementos with a dusting wand may take some time, depending on the number of objects in the room.
The bed linens. When left unwashed, bed linens can become contaminated with germs, so all bed linens (sheets, comforters, pillow cases, pillows, and even bed skirts) should be laundered and replaced regularly.
The windows and mirrors. Taking five minutes to wash the windows can literally help brighten the room, and it only needs to be done periodically. Don't forget to clean the mirrors as well.
The floor and rugs. The floor and rugs on the stairs or in the bedroom should be cleaned regularly. It may take 20 minutes or more to vacuum or sweep and mop. Don't forget to clean the areas under furniture where dirt and dust can gather.
Occasional Tasks for Clean Bedrooms and Stairs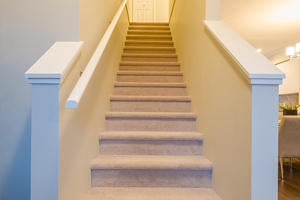 The mattress. To ensure that mattresses wear evenly, manufacturers suggest flipping the mattress at least four times a year. If it's too heavy to do on your own, be sure to ask for some help.
Window coverings. Whether the room has blinds, shutters, or drapes, the window coverings will need to be washed occasionally. The time it takes to complete this task will vary, depending on the manufacturer's instructions.
Light fixtures, ceiling fans, and vents. When you can spare 20 minutes, use a dusting wand to clean dust from vents and light fixtures. To remove dust from ceiling fans without making a mess, place an old pillowcase over each blade and wipe.
The floors. The stairs will need professional cleaning every once in a while to add shine to the wood or to remove stains from the carpet. Don't forget to have the bedroom floors and rugs done as well.
The closets and wardrobes. As closets and wardrobes tend to be messy, they will need to be cleaned out and reorganized every once in a while. To prevent clutter in the future, homeowners should consider hiring a Best Pick contractor for closet organizing.
After using the household chore schedule to clean the indoors, homeowners may want to tackle their outdoor spaces.
Our companies are backed by the Best Pick Guarantee. Call one today!