Window Tinting
Window Tinting For Safety and Security
October 20th, 2015 by
If you're considering tinting the windows of your home, you may be a little overwhelmed by all the options. After all, window tinting film can accomplish many goals—the key is determining exactly what you want it to do. How dark do you want the windows to appear? Are you concerned about room temperature and fading fabrics? Are you considering safety film to enhance your home's security? Depending on your specific needs, there is a wide variety of choices on the market.
Window Films for Safety and Security
Although window films are most commonly used to reduce glare and provide some protection against the sun's energy, certain window film products can also be used for safety and security purposes. When properly applied, safety window film can prevent injury from flying shards of glass in the event of a window being broken. Standard films are made of thin sheets of polyester, but safety and security window films are made of much thicker polyester sheeting. To increase their strength, these films are applied using a stronger adhesive.
Windows that have been treated with a safety or security film can still break, but the film will prevent the glass shards from separating from the window. If the glass is broken during a forced entry attempt, the security film will make it exponentially more difficult for intruders to enter the space.
Window Films for Sun Control
Over time, the sun can do a lot of damage to the interior of a room. Harmful UV rays can cause fabrics, artwork, and photographs to fade, and the solar heat gain entering the room can drive up cooling costs by a significant amount. Having sun control window film installed in especially sunny rooms can be an unobtrusive way to keep the effects of the sun at bay.
Dyed window films can block some of the sunlight streaming into a room, but because they don't contain any metals to reflect the sun's rays, you probably won't notice a significant change in the room's temperature. If heat gain is your primary concern, look for metallic window films that will reflect sunlight. High-quality solar heat control films are designed to block heat while still letting as much natural light as possible into the room, thus avoiding the room-darkening effect of many dyed films.
Window Films for Decoration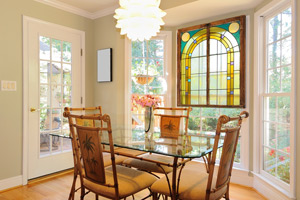 If your goal is to change the appearance of a window, to add your own artistic flair to it, or even to prevent birds from trying to enter a room through a solid pane of glass, look into decorative window films. Decorative films come in many styles and colors, and depending on the method of application and use of adhesive, some are designed for easy application by the homeowner. Create privacy with frosted films, daydream about a tropical vacation with a film printed with a relaxing beach scene, or add color to your workspace with a film designed to look like stained glass. The options are limitless.
Your search for the perfect window tinting film may lead you to far more than 50 shades of tints, so the first step to embarking on a window tinting project is deciding on the purpose of the window film. If you need the window film to slow down intruders or help keep the sun out of a room, your project may need the help of a professional window film installer. Decorative window films, on the other hand, can often be applied without professional assistance and can be removed and reapplied in another location. Regardless of your goal, window tinting is an easy way to enhance your home.
Our companies are backed by the Best Pick Guarantee. Call one today!