Countertops & Stone - Custom
6 Granite Countertop Alternatives that Rock
September 23rd, 2015 by
Whether you're renovating your whole kitchen or just planning to give your existing countertops a new look, you don't have to fall back on granite. There are plenty of great but often-overlooked alternatives to granite that can add the perfect unique touch to your kitchen.
Marble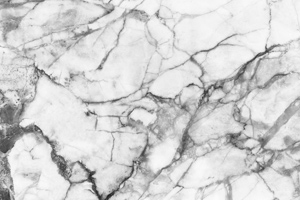 Marble countertops are just as beautiful and stately as granite, and though they may not be cheap, they can cost less than their granite counterparts. However, since marble is softer and more porous than granite, it can scratch and stain easily, which can make marble countertops difficult to maintain. Be sure to finish or seal a marble countertop properly to keep it looking like new.
Engineered Stone
More durable than granite or marble, engineered stone countertops are made from a composite of quartz and binding material. While engineered stone may be a bit pricier, it gives the look and feel of stone with increased durability, and it often comes with warranties that natural stone countertops may not carry. Last but not least, engineered stone is very easy to clean and maintain, making it a great kitchen countertop option.
Solid-surface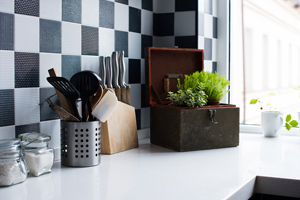 Solid-surface countertops have been very trendy in the past, and they come in such a wide variety of colors and styles that finding the perfect match for your kitchen is as easy as can be. Solid-surface countertops are not heat resistant and can be scratched, but keep in mind that any scratches can be sanded out.
Tile
Tile is just as customizable as solid-surface in addition to being heat resistant, easy to clean, and often much less expensive than other countertop materials. If you decide that tile is right for you, watch out for grout—dirt and food particles can collect between the tiles. Although tile itself is easy to maintain, stains can be hard to remove from grout.
Concrete
Concrete is a unique countertop choice that puts a trendy, industrial twist on the smooth, timeless appearance of stone. Experienced do-it-yourselfers, in particular, may be interested to know that it's possible to install your own concrete countertops. Just remember to maintain your concrete countertops properly—if not sealed, they can stain easily.
Laminate
Like solid-surface countertops, laminate counters are relatively inexpensive and easy to clean, and you can choose from many colors and designs to match any kitchen. Though laminate is versatile, it is not heat resistant and can be difficult to repair.
Granite may be popular, but choosing different kitchen countertop materials can give your kitchen the fresh, new look it deserves. Get in touch with a Best Pick kitchen renovator to give your countertops a makeover.
Quality matters when hiring for a big project. Call a Best Pick now!