Housecleaning Services
Follow the Best Pick Reports Chore Schedule: The Bathroom
August 10th, 2015 by
A household chore schedule is an ideal solution for an untidy home. Part one of this blog featured solutions for keeping a clean kitchen; this part focuses on another challenge: maintaining a pristine bathroom. The constant moisture from steam and running water makes bathrooms susceptible places for mold, germs, and corrosion. A chore schedule ensures that every area of the bathroom is thoroughly cleaned and disinfected.
Everyday Cleaning Tasks for the Bathroom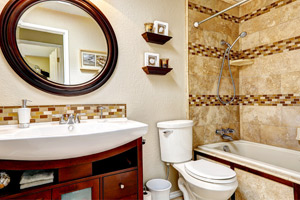 Handles, knobs, and switches. Toilet handles, sink fixtures, doorknobs, and light switches are often covered in germs, especially in the bathroom. Take a minute or two every day to sanitize these areas with a soapy cloth or a disinfectant wipe.
The sink, countertops, and toilet seat. To sanitize the bathroom, it's important to wipe down bathroom surfaces on a daily basis. Cleaning the sink bowl, the countertops, and the toilet seat and rim should take one to two minutes.
The mirror. Cleaning spots off the mirror takes only a few seconds, and it should be done daily.
Periodic Tasks for a Clean Bathroom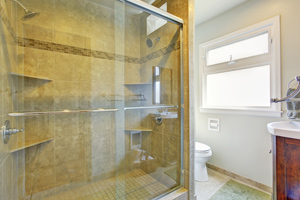 Shower doors and curtains. Five to ten spare minutes can prevent water markings, soap scum, and mildew buildup on shower doors and curtains. Simply clean the area with cleaning products and a suitable towel as part of your weekly chores.
The sink, toilet bowl, and bathtub. The main bathroom areas (the sink, toilet, and bathtub or shower) need regular cleaning. Foaming cleaning products do most of the work in about ten to twenty minutes. Just use a scrub brush after the cleaning product has set.
The tile. Bathroom tile should be cleaned periodically with all-purpose cleaner and a cloth. Tile on the floor or high on the wall can be cleaned with a cleaning product and a microfiber mop. The job only takes 15 to 20 minutes.
The floor. Dust and hair frequently accumulate in the bathroom, so the floor should be swept and mopped. It can take 15 or more minutes, depending on the size of the floor.
Occasional Bathroom Cleaning Tasks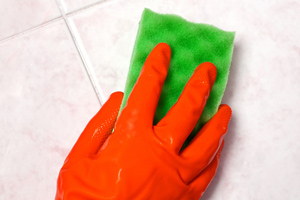 The garbage can. The bathroom garbage can is often overlooked, but it needs to be cleaned occasionally as well. Cleaning the garbage can with bleach should only take a few minutes.
Bathroom rugs. When maintaining a clean bathroom, don't forget the bathroom rug. Different rugs have different cleaning instructions, but most require mild detergent, cool water, a gentle washing cycle, and air-drying.
Medicine and vanity cabinets. Bathroom cabinets can get overcrowded rather quickly. Occasionally cleaning out old medicines and products can help keep the spaces organized. The task requires about 20 minutes.
The grout. Cleaning grout usually takes a lot of enthusiastic scrubbing. People use a variety of cleaning solutions for grout, including bleach and water, hydrogen peroxide, and white vinegar and baking soda, so find out which cleaning products work best for you.
The drains. Hair and soap can back up a drain. Occasionally pouring cleaning products or boiling water down the drains of bathtubs, showers, and sinks can prevent clogs. If a clog does occur, consider calling a Best Pick Plumber.
Once the kitchen and the bathroom cleaning schedules have been handled, the next area homeowners may want to tackle is the common living space. Part three of this series offers a weekly chore schedule for the living room, family room, and hallways, so be sure to check back later this week.
Our companies are backed by the Best Pick Guarantee. Call one today!