Housecleaning Services
Follow the Best Pick Reports Chore Schedule: Living Spaces
August 12th, 2015 by
Keeping a kitchen and bathroom clean requires a lot of elbow grease, but maintaining common living spaces calls for a different kind of upkeep. These areas tend to have a lot of clutter, foot traffic, and stains made by children or pets. The third installment of this weekly chore schedule series focuses on cleaning common areas, including living rooms, family rooms, and hallways.
Everyday Tasks for Common Living Spaces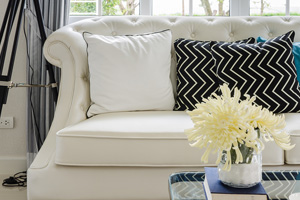 The sofa area. The sofa is the most popular seat in the house, and therefore, it's one of the dirtiest. Every day, the pillows will need to be fluffed, and a handheld vacuum can pick up any crumbs or dirt on the furniture or surrounding floor area—it should only take a few minutes.
Play spaces and high-traffic areas. Children's play areas and high-traffic areas like the entryway attract large messes on a daily basis. Keeping these areas tidy, with the floors cleared, will prevent potential injuries.
Tabletops. Dining tables and breakfast nook tables can get dirty with leftover food. Wiping them down after every meal is a good idea, and it can be done in a matter of seconds.
Periodic Cleaning Tasks for Living Spaces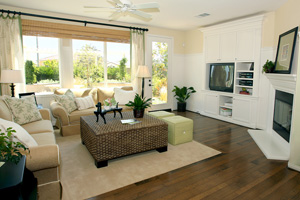 Knickknacks and surfaces. Tables, walls, and decorations should be dusted every once in a while. Periodically, wood surfaces should be polished, and remote controls and drawer knobs and handles should be disinfected. It's a necessary task that might take a while.
Windows, mirrors, and screens. Windows, mirrors, television screens, computer screens, and picture frames should be cleaned regularly. It should only take a minute or two per surface.
Closets, shelves, and displays. Storage areas will not only need regular organizing but periodic cleaning as well in order to clear any dust or dirt. Ten or so minutes per closet or organizing system should do the trick.
The floors. The floors in living spaces will need to be vacuumed or swept and mopped regularly. It may take a while, but it's worth it. Don't forget to clean the floors under the dining and kitchen tables, underneath the sofas, and at the home entry points.
Occasional Tasks for Common Living Areas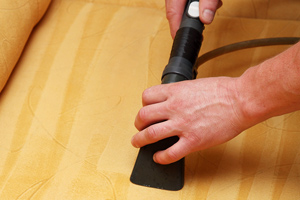 Welcome mats. Welcome mats are expected to get dirty, but they may need to be cleaned occasionally. Disinfectant spray and other cleaning products can help reduce germs, and it only takes a few minutes to clean them.
Light fixtures. Light fixtures, especially those over the dining room table, will need special attention. It can take an hour for every dozen fixtures, and don't forget the lampshades.
Window coverings. Dust the shades and blinds, and wipe them down with cleaning products and a soft cloth—this can take 15 minutes for each covering. Window curtains will need to be washed every once in a while as well.
The sofa (and other upholstered furniture). Upholstered furniture can collect dirt that may not be seen with the naked eye. For a thorough cleaning, homeowners can contact a Best Pick Carpet and Upholstery Cleaning contractor.
The carpets and rugs. Beyond vacuuming, the carpets and rugs will need occasional deep cleaning, specifically in the high-traffic areas. Homeowners can hire a Best Pick Carpet and Upholstery Cleaning contractor for this type of work as well.
With the kitchen, bathroom, and common living spaces covered, there are only a few areas of the home left that need to be addressed.
Quality matters when hiring for a big project. Call a Best Pick now!