Junk Removal
Ultimate Moving Checklist – 6 Weeks Out
May 13th, 2015 by
Anyone preparing to move can easily be overwhelmed by the stress of trying to make sure everything goes smoothly—after all, moving takes dedication and attention, and keeping up with every important task and deadline can be incredibly difficult amidst the mayhem of a move. Using a checklist to keep track of what needs to be done at each stage of your move can be an effective way to keep the moving process organized and make sure everything is done and accounted for as the big day approaches.
6 Weeks Before the Move…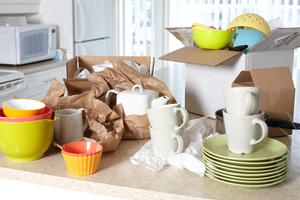 Get rid of anything you're not taking with you. Use up any food or other perishable items that you don't want to pack up, and go through rooms and closets to decide whether you'd like to sell or donate any of your belongings.
Begin packing items that you don't use very often or that you likely won't be using before the move, such as things normally kept stored in an attic or closet.
If you need to, shop around for storage options and make plans to store your items for as long as necessary.
Provide your updated address and information to any professional services you use and any organizations you belong to, such as doctors and pharmacists, banks and accountants, insurance companies, clubs, and even magazines you subscribe to. It's also a good idea to use this time to notify your utility companies of your move, and if you're renting, inform your landlord.
Contact your insurance providers about transferring coverage, and find out whether your belongings will be insured during the move.
If you have children who will be switching schools, keep in contact with the new school's administrators and make sure there will be no issues with transferring any necessary paperwork or records.
Start gathering boxes and packing/moving supplies like markers, wrap, padding, and tape.
Measure the rooms of your new home and make sure that your furniture will fit where you want it to go.
Call ahead to order and arrange for the future delivery of any new furniture, carpets, or fixtures.
Keep your move in order by referring back to the checklist—it may even be helpful to use a binder to keep track of dates, to-do lists, and appointments.
Quality matters when hiring for a big project. Call a Best Pick now!