Housecleaning Services
How to Clean Your Kitchen in 15 Minutes
August 5th, 2015 by
Cleaning can seem like an overwhelming task amid the hustle and bustle of life. Between traveling to and from work, enjoying family and friends, and taking a break for yourself, it's sometimes just hard to find the time. However, there are a multitude of cleaning tips and tricks to make this necessary part of life go a little more quickly. Since the kitchen tends to be the hub of a home, it's one of the most important rooms to keep clean. Focus on the following kitchen cleaning tips, and your kitchen will be spick and span in no time.
Clean Up Clutter (up to five minutes)
If your countertops are crowded, your kitchen may look dirtier than it really is. Put away any clean dishes, throw out anything that needs to be tossed, and take a minute or two to sort through any mail on the counter as well as other items that don't belong in the kitchen. Also, consider storing small appliances you don't use very often in cabinets or pantries.
Wipe Everything Down (four minutes, tops)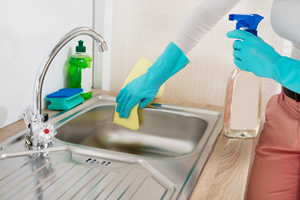 Once you've cleared off the counters, wipe crumbs and other debris into the trash. Next, spray all surfaces—the countertops, stove, tabletop, and chair seats—with a cleaner/disinfectant combo. Let the cleaning solution sit for a minute (perhaps start on the kitchen sink while you're waiting), and then wipe it off. Remember to clean any residue off of small appliances, the refrigerator handle, and the front of large appliances such as the dishwasher.
Don't Forget the Kitchen Sink (about two minutes)
Studies have shown that your kitchen sink may be germier than your garbage can. Be sure to spray and wipe it down as well, and clean out any food scraps that may have collected near the drain.
Take Out the Trash (two minutes)
Now that all the garbage is in the trash can, take the bag outside, and replace it with a new one. If your garbage can smells less than pleasant, sprinkle a little baking soda in the bottom before putting in the new bag.
Spot-Clean the Floor (around two minutes)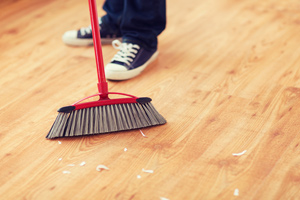 At this point, you probably don't have time to pull off a full sweeping-and-mopping job, but using your remaining couple of minutes to clean up any obvious debris or residue on the floor will finalize that clean-kitchen look.
Now that you've only had to dedicate 15 minutes to cleaning your kitchen, you have a bit more time to spend on the things you actually want to do. Alternatively, if you feel like you're on a roll and are looking for some more quick cleaning tips, check out our previous post on how to clean your bathroom in 15 minutes. If you consistently have trouble finding time to clean or you just would like some help, keep in mind that several Best Pick companies provide housecleaning services.
Our companies are backed by the Best Pick Guarantee. Call one today!