Basement Remodeling & Additions
7 Secrets to Building a Man Cave Your Friends Will Envy
September 28th, 2015 by
Man caves are the epitome of entertainment and relaxation, and they make a great addition to any home. With the right man cave design ideas, homeowners can transform any spare space into a fun retreat.
Seven Man Cave Essentials
Design themes. Deciding on the theme for the man cave is the first step. Some themes are based on sport teams, comic book characters, pubs, hunting lodges, arcades, sci-fi movies, and fantasy TV shows. A Best Pick basement remodeler can offer more ideas and can help with any renovation and design plans.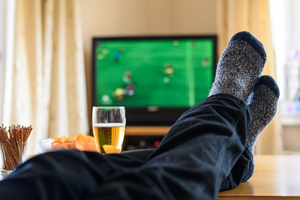 Entertainment spaces. A big-screen TV with comfy seating is usually the crown jewel of a man cave. However, home projection systems are also a great idea, especially for a man cave with a movie theater theme. Speakers, a high-definition music system, or an old-fashioned jukebox could liven up the space as well. Learn more about home theater systems.
Activities. Man caves are ideal areas for activities and games. Homeowners can put pool tables, dartboards, poker tables, and gaming consoles in the room, even if space is limited. For instance, pool tables come in mini sizes, and there are also pool tables that double as dining tables for the room. How to make an amazing game room.
Memorabilia and knickknacks. The right accessories can bring the whole theme of the room together. Movie memorabilia, family heirlooms, and beloved childhood knickknacks contribute to the fun atmosphere. Whether the prized pieces are posters, props, figurines, or pictures, they'll need to be highlighted by appropriate lighting. Contact a Best Pick electrician for help with this.
Organization systems. With all the fun activities going on, man caves can get messy. Shelves offer a traditional means of organization, but there are other creative ideas to consider. Lockers in a sports-themed man cave provide additional storage and bolster the room's theme. Bookcases with secret doors can be fun. And a walk-in closet can be transformed into a wine cellar or refrigerator for alcohol. For more tips, contact a Best Pick closet and garage organizer.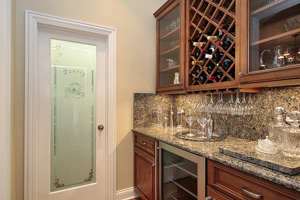 Bars and kitchenettes. Some man caves will have room for a small kitchen or bar. No matter the size of the space, make the most of it by adding fun details. Monogrammed glasses, personalized signs, and unique bar stools can do the trick. Homeowners can also have beer taps, mini indoor grills, or a retro fridge installed for a fun snacking experience.
A little privacy. If the man cave includes a bathroom, decorate it to fit the overall theme. The makeover can be as simple as adding a cinema-themed soap dispenser or hand towels with a sports team's logo. It can also be a great opportunity for larger, unique renovations, like mosaic tile made from bottle caps or a wooden barrel bathroom sink.
Designing your own man cave should be a fun experience for the whole family. Entertainment options are limitless, and you can customize the space to fit anyone's preferences. Even better, a man cave is a space that can grow and change with your family. Just remember: as long as you're having fun, there's no such thing as a bad man cave design.
Our companies are backed by the Best Pick Guarantee. Call one today!