Home Remodeling
Your Dining Room Misses You: Consider a Remodel
September 25th, 2015 by
The dining room is often set up traditionally, with a large table, multiple chairs, and sometimes a china cabinet or a sideboard for storage and display. But how often do you make changes to your dining room once you've moved in, and is a traditional setting really right for you? If you're ready for something new and refreshing, consider a dining room remodel.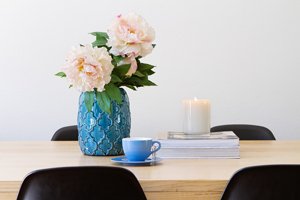 Add a pop of color. By selecting a bright color to accent your dining room, you can liven up the room without investing a lot of money. Vases, seat cushions, or a new tablecloth can go a long way toward changing the look of the room. If you're feeling especially bold, splurge on colored dining chairs.
Replace the furniture. If the table you've spent years dining at is long and rectangular, perhaps you want to opt for something smaller and more intimate. A round table can completely change the look of a room. If your current set came with matching chairs, consider a dining bench or building a banquette—which can also double as storage.
Design with multiple purposes in mind. If your family only uses the formal dining room for dinner parties and holidays, consider maximizing the room's potential and giving it a second purpose. Comfortable chairs, bookshelves for reference, and drawers and cabinets into which office supplies and computer accessories can be hidden during mealtime can allow the room to be used as a home office or library. Alternatively, spill-proof upholstery and craft paper table coverings can make the room an easy-to-clean craft space.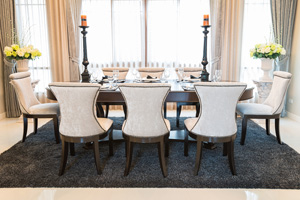 Choose a theme. Are you a fan of colonial furniture or the look of a French cottage? Take the opportunity to look for pieces in your favorite style and bring the look into your home. Mix and match traditional pieces with modern items to keep more ornate styles from feeling outdated or stuffy.
Consider a neutral base. If the majority of your dining room is neutral in tone, you can change its look with accessories and decorations to fit the time of year. Spring and summer flowers, fall candles, and winter holiday decorations can transform your dining room to suit any season seamlessly.
Create intimacy. Install pocket doors that slide into the walls to keep the room open when it's not being used but allow the possibility of closing it off for an intimate dinner party. Alternatively, installing curtains or farm doors on rollers can divide the room when necessary without creating an obstacle out of a swinging door while also adding a visual element to your dining room.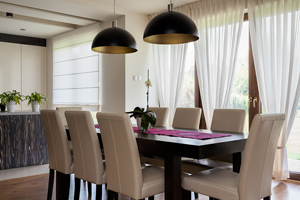 Add patterns for visual flair. Paint the room in vertical stripes to make it appear taller, or add patterned finishes with upholstery or drapery to introduce more variety to the overall look of the room. Incorporating unexpected patterns into seat cushions or a rug under the table gives you an opportunity to add a touch of personality to the room.
With our dining room design ideas, you can start to consider the many different ways to freshen up your own space. Whether you choose minor, cost-effective changes or invest in a whole new setup, dining room remodeling will breathe new life into your home.
Our companies are backed by the Best Pick Guarantee. Call one today!