Painters
Painting Tips That Will Change Your World (Part 1 of 2)
September 18th, 2015 by
Whether you are getting ready to sell your home or are just ready for a change of scenery, painting is one of the easiest ways to update and transform your living space. While anybody can throw some paint up on a wall, a high-quality interior painting job can only be attained with careful planning and the right tools. Use the following painting tips and tricks to guide you to success.
Prep Correctly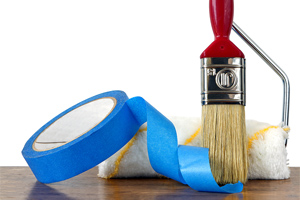 Fill holes and sand surfaces. It's imperative to spackle over holes and buff out any imperfections prior to painting. Paint application and adhesion go much better on smooth, even surfaces. If paint is applied over rough or uneven surfaces, these flaws will still be apparent after the new paint job, and the paint will be more likely to crack or peel down the line.
Wash all surfaces and allow them ample time to dry. Painting is not a one-day thing. You should plan for each room to take you several days due to prep and drying times. Before the painting can even begin, all surfaces need to be washed to remove dust and dirt. After cleaning, wait at least 24 hours to begin painting to ensure the surfaces are fully dry.
Invest in a canvas drop cloth. Plastic sheets are slippery and do not absorb paint, so although they are economical, they are not the best choice from a safety or cleanliness perspective. They also cannot conform well to edges. While old bedsheets are better at lying flat against edges, they are usually too thin, and paint can seep through them. Canvas drop cloths may cost more, but they solve all these issues and can be kept and reused.
Pick the Right Paint
Test the colors. If you're having trouble choosing paint colors, buy samples of a few colors you're considering. Paint some foam boards with the colors, and hold them up against the walls of the room during different points throughout the day to test how you like the color in all types of lighting. For more information on choosing the right colors, check out our blog posts on paint choices and the color wheel.
Pay attention to the base. There are water-based and oil-based paints and primers, and the two types do not always interact well. A good rule of thumb is to choose a primer with the same base as your topcoat. Water-based latex paints are the most do-it-yourself friendly because they dry faster, don't smell as strong, and can be disposed of down the drain.
Don't bargain shop. It's tempting to save money wherever you can, but buying cheap paint may actually cost you more in the long run. High-quality paint comes with a higher price tag, but it typically requires fewer coats and lasts much longer.
Don't Skip Primer
Apply a primer. Even if you are not painting a brand-new surface, applying a primer is beneficial. In addition to helping with paint adhesion, primer helps mask existing wall stains and imperfections and prevents previous colors from bleeding through.
Tint the primer. Mixing a small amount of your topcoat color into the primer before applying it can help your paint appear more vibrant—especially if you are applying over a completely different color. It may also provide enough of a base color to require only one topcoat rather than two.
Be Efficient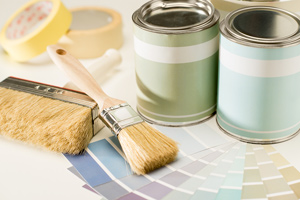 Get a bucket and paint grid instead of a paint tray. Paint trays are prone to spills and require constant paint refills. A five-gallon bucket will allow you to pour in all the paint at once. Not only does this save time, but mixing all the cans together in one bucket also prevents the possibility of slight color variations between cans being apparent on your walls. Paint grids allow you to roll off excess paint, which makes for more even coats and helps you conserve your resources.
Use the right rollers or brushes. When choosing your brushes, use common sense. Intricate, detailed work will require smaller brushes, and larger brushes should be used to cover bigger areas. Natural bristles work best with oil-based paint, and synthetic bristles work best with water-based paint. If you opt for rollers, choose ones with naps of no larger than three-eighths of an inch for smooth surfaces. If your walls or ceilings are textured, bigger naps will distribute paint more efficiently.
Wrap and refrigerate your tools. If your painting job ends up taking more than a day, or if you need to take an extended break, you do not need to wash all of your brushes or rollers between painting shifts. Simply wrap them tightly in plastic and refrigerate them while you are away to prevent them from drying out. You can keep them refrigerated up to a few days, and all you need to do is unwrap them and wait for them to return to room temperature before getting back to work.
Following our interior painting tips will help ensure that your project goes smoothly. Now that your home's interior has been freshened up, you may want to focus on the outside. Check back next week for a blog post about exterior painting tips.
Quality matters when hiring for a big project. Call a Best Pick now!