Basement Remodeling & Additions
It's All Fun and Games: How to Make an Amazing Game Room
September 8th, 2014 by
Game rooms provide the perfect escape from a stressful day and hours of entertainment for your family and friends. The best game rooms will reflect your sense of style while providing space for the various activities that will be enjoyed in the reserved area. Consider the three things below before creating your amazing game room.
Location
An amazing game room starts with a great location. Of course, that location will depend on a number of things, but there is one thing in particular to keep in mind: find a room that's easy to get to but far enough away from parts of the house that would be easily disturbed by loud noise or music, like bedrooms. If you plan to have guests over for fun and games while other members of the family would rather enjoy a peaceful afternoon, having a dedicated game room is the perfect solution to keeping everyone happy.
Purpose
Every game room serves a specific purpose. For the gamer, it provides a space where you can transport yourself to another world. For the sports fan, a game room has a fully stocked fridge and a big-screen TV that allows you to clearly see each play. And if you enjoy hosting game night, then you should have a variety of games for everyone to partake in.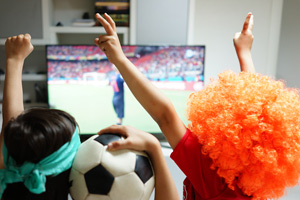 The Sports Fan. Nothing should stand in the way of you and the game. Find a space that will allow you to experience the game uninterrupted so that game-breaking play is etched on your memory forever—unless, of course, your team is on the losing side of that fateful play.
You obviously need a television to watch your favorite team, but find an option that fits well in your space. A good set of speakers will add to the game-day environment while allowing a large group of people to hear commentary from the announcer.
Seating might be the last thing on your mind if you're standing in front of the television and cheering your team on during a tense game, but for games that don't require quite as much energy, a comfortable chair or couch could help ease the pressure of a longer game. Make sure you provide enough space and seating for guests you plan to have over on a regular basis, and for playoff games or championship games, store some extra seating in a nearby closet to accommodate any bandwagon fans.
To keep your intensity up during the game, make sure that you have snacks and beverages within reach. You may even want to consider adding a well-stocked, in-home bar to add a touch of luxury and convenience to your game room.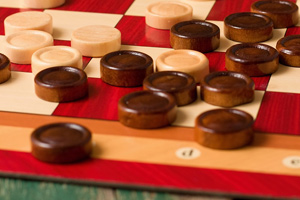 The Board Game Aficionado. If the mention of game night brings a smile to your face, then a room dedicated to just that might be your next best move. Besides housing all your favorite board games, your game room should be equipped with tables for games and snacks as well as comfortable seating for your guests. If you plan to have several different games going at once, make sure that you have a few decks of cards and enough room to give each group their own space. Little things like pencils, pens, and paper are also important for keeping score.
The Gamer. For the gamer, an amazing game room provides a space where you can plug in your favorite game and completely immerse yourself in the action. In order to get as close to the action as possible, having a quality television is necessary. High-quality graphics don't translate well on a mediocre screen. To really enhance your experience, add speakers that allow you to hear the approaching sound of zombies or the explosion of bullets from the enemy.
If you're going to spend hours traveling through alternate realities, comfortable seating is vital. There are a variety of chairs on the market dedicated to gamers—from basic ones that simply provide comfort to ones that offer built-in speakers and RCA stereo outputs.
If you're a gamer who prefers to compete online, you won't need a ton of space for your game room, but you should purchase a set of quality headphones to hear your teammates and strategize without missing a word. If you favor in-person competition over online opponents, consider how many guests you would entertain on average. Purchase any additional controllers and chairs based on what is needed, but first determine if the space in mind will accommodate your adversaries.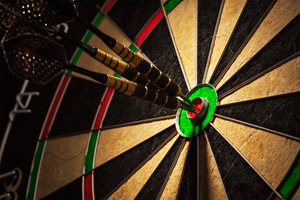 The Pool Player. Masters of the pool table should keep their favorite pastime close to home. A pool table is a large piece of furniture to add to a home, and sticking it in a corner renders it useless. Find a large, central space to house the pool table in order to prevent the wall from being decorated with holes from the pool sticks.
Once you've found an adequate space for your pool table, you can simply position the table so that it serves as the room's centerpiece, or you can offset it with a poker table or multigame table to provide more activities for anyone waiting for a turn.
To replicate the look and feel of a billiards room, add a light fixture above the pool table to illuminate the playing area. Consider adding a few stools, a dartboard, or even an in-home bar to finish off the room.
Décor
A truly amazing game room is one that caters to your personality and tastes. Whether you prefer modern, traditional, retro, or contemporary, your design tastes should be reflected in the room. While an incredible television and sound system are essential to creating the perfect game-day experience, without a well-thought-out theme, the room is void of character.
Take into consideration the room's main purpose along with the personality of the people who will use it. A pool room doesn't have to feel like a dive bar—you can create an old English pub or make your room a sophisticated space with neutral tones. If you have kids, make sure to incorporate some kid-friendly aspects into your room so that they can join in on the fun. Be careful not to stray too far from the theme that runs through the rest of your home. Overall, you'll want to create a cohesive design throughout your house.
A game room is made for fun, but in order to create one that will wow your friends and entertain your family, it's important to find the perfect location, buy the right accessories, and design with your personality in mind.
Our companies are backed by the Best Pick Guarantee. Call one today!