Housecleaning Services
How to Deep Clean Your Kitchen In 7 Steps
November 19th, 2015 by
All kitchens need a periodic deep cleaning, especially after extensive use. The cleanup of a dinner party is a perfect opportunity to take this on. With a few helpful kitchen tips and some basic cleaning supplies, including baking soda, distilled white vinegar, soap, and water, you can clean up after a feast in no time.
1. Cooking Appliances
When cleaning up after a party, focus on the oven, range, and microwave. You can clean a gas range with soap and water and an oven with oven cleaner. Soak and scrub the racks and burner grates in warm, soapy water, and steam clean the microwave by heating water and lemon slices in a microwave-safe bowl (the steam will make it easier to wipe down). Lastly, remember to sanitize handles, knobs, and keypads with multipurpose cleaner.
2. Storage and Cleaning Appliances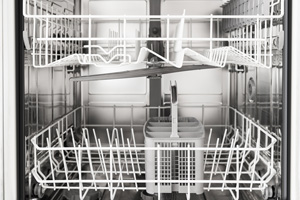 Don't store leftovers in a dirty fridge. Clean it out before the big feast by throwing away old food. Put the items you want to keep in a cooler while you clean the shelves and bins with baking soda and hot water. To remove residue from a dishwasher, use warm water and dish soap. For the dishwasher's filter, use a new toothbrush, baking soda, and distilled white vinegar. You can also clean its front door and handles with multipurpose cleaner.
3. Countertops and Backsplashes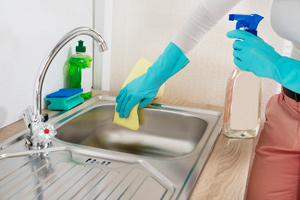 Different countertops require different cleaning methods, but generally, granite, laminate, wood, and some stone countertops can be cleaned with mild dish detergent, warm water, and a soft dishcloth. To remove stains on granite countertops, use a paste made up of baking soda and water; for laminate countertops, use vinegar and water. Remember to wipe grease from backsplashes, particularly behind the cooking range.
4. Faucets and Sinks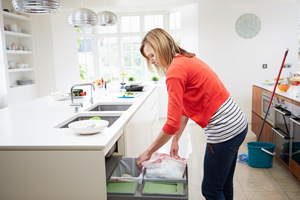 When cleaning, don't forget to sanitize the sink, especially the garbage disposal. Use baking soda, white vinegar, and a toothbrush to clean the faucet fixture. For the garbage disposal, pour the soda and vinegar down the drain, let it set, and then rinse with hot water. Finally, pour ice, rock salt, lemon slices, and cold water down the drain and then run the garbage disposal to both remove grime and neutralize odors.
5. The Floors
With all the foot traffic your kitchen gets, it's important to sweep the room and clean the floor. Make sure to wipe the baseboards, the space underneath the stove, and any nooks and crannies. For a more thorough floor cleaning, hire a housecleaning service.
6. Garbage Cans
A lot of germs and bacteria can be found around and inside garbage cans, so they'll definitely need a deep cleaning. Rinse the containers out with a hose and scrub them with a brush, white vinegar, and water. Afterwards, use a disinfectant spray on the garbage cans to eliminate germs and reduce odors left over from the feast.
7. The Pantry
The pantry is often a forgotten part of kitchen cleaning, but it can get a little disorganized and dirty after a big feast. Start by removing food and cleaning the shelves with vinegar, baking soda, and water. Sweep the floor to remove any crumbs and clean up spills. And for the final touch, dust and disinfect the doorknobs.
These seven steps will take a good amount of time if you don't clean your kitchen on a regular basis.
Quality matters when hiring for a big project. Call a Best Pick now!