Painters
Essential Steps for Preparing to Paint a Room
April 11th, 2013 by
This article was crafted with the help of Dave Williams from Williams Professional Painting
Whether you're looking to freshen up some of your walls or head in a bold new direction with color in your home, preparing to paint a room can be just as important as the actual paint job itself. Dave Williams, founder and president of Williams Professional Painting in Northern Virginia and Maryland, offers some tips to help you prep like a pro.
When Choosing a Paint Color
Many homeowners have a knack for envisioning how paint colors will fit in with their home, but for the rest of us, follow these essential tips to help you determine the color that's best for you:
Get the Color Into Your Home
Even if a color comes out of a single paint can, it can look dramatically off-color under changes in lighting conditions and on different surfaces. Dave urges homeowners to "never pick a color in a paint store. They use fluorescent lights, and very few people have fluorescent lights in their house."
The following tricks, Dave says, will help you get a better feel for how a color will actually look in your home:
Get a sample from the store and paint a section on your wall.
Examine the sample section during different times of the day. Your paint color may look completely different in the morning or evening, depending on how natural and artificial light fill your room.
If you are hesitant to paint a section of your wall, some paint manufacturers have websites that will allow you to upload pictures of different rooms and apply their colors to your walls.
Consider the Type, Size, and Function of a Room
A new paint color can significantly alter the mood of a room, whether you want to make it more cozy and intimate or light and open. As a general rule, Dave notes that "darker colors make a room seem smaller, while lighter colors make it seem larger." If you are painting your home in preparation to put it on the market, stick with lighter colors.
Select the Right Paint Brand and Quantity
If you are hiring a professional to paint your home, you'll want to talk to your contractor before purchasing just any old paint off the shelf to save a few dollars. "If a painter is used to using a certain kind of paint," says Dave, "you're going to get a better job when he's using that paint."
If you want to do the work yourself, consider using one manufacturer for all paint projects in your home. Many companies will help you keep track of the shades you have purchased, so you'll never have to wonder whether you painted your walls Linen White or Decorator White when the time comes for touch-ups.
When buying paint, keep in mind that one gallon of quality paint will cover about 400-450 square feet indoors, says Dave.
When Choosing a Paint Finish
While most of us are pretty familiar with colors, entering the world of paint finishes can be a source of confusion and frustration for many homeowners. New advances in the durability of paint finishes (washable matte, for example) are giving homeowners more options with sheen.
There are some general traits to keep in mind when choosing finishes for the different rooms and surfaces of your home:
Matte or flat finishes are designed to reflect little to no light, while glossier finishes are highly reflective.
The glossier your paint, the more durable your finish will be, Dave says. These shiny finishes don't absorb stains and dirt and can stand up to regular, light washes, making them ideal for rooms with high traffic or frequent messes, such as kitchens, bathrooms, and children's rooms.
The flatter your paint, the better it will cover up surface flaws. You will need to take extra precautions when preparing walls for glossier finishes, because a high sheen will enhance any imperfections in the surface.
As you consider paint finishes, keep in mind that every household is different. Some kitchens only see take-out boxes, while others are lovingly stained every night with the resident chef's newest culinary creation.
Likewise, a powder room for occasional guests won't require as durable a finish as a children's bathroom might. The following table provides general guidelines for which finishes are appropriate for different types of rooms.
The finishes are listed in order of sheen and durability with matte having the lowest and glossy having the highest.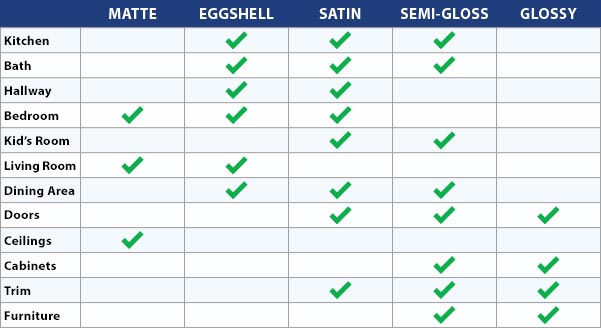 When Choosing a Time to Paint
Paint Your Rooms Last
Homeowners often bundle renovation projects to avoid having their home become a year-round construction site.
When performing multiple repairs, paint last. "Many times, we get the house painted, and then the electrician comes in to put in new lights or wiring," says Dave, "so we have to go back and patch holes." In order to avoid unnecessary touch-ups, make sure that painting is the last thing that you do in a list of repairs.
Select a Season
Volatile organic chemicals (VOCs) commonly found in paint are at their highest concentration during and after a paint job, so it is recommended that you ventilate the freshly painted room by opening a window. However, fluctuating temperatures or very low temperatures can prevent paint from adhering correctly to walls.
Additionally, humidity in your home can cause paint to blister and bubble. Thanks to new low-VOC paints, you can now paint indoors year-round without having to ventilate the room. Keep in mind that with most paints, you still need to work your painting schedule around the temperature outside.
When Prepping the Room
If you have hired a contractor, you can stop here. Dave says that a professional should take care of moving and covering your furniture, preparing your walls, and cleaning up any mess afterwards. Read on if you plan on doing the painting yourself, or for a sense of what prep work your contractor may perform.
Cover Your Furniture and Floors
Move your furniture to the center of the room, and cover it with a drop cloth or plastic. Getting your furniture away from the walls will help you examine them for surface imperfections later in the process.
Apply painters tape to the area where your wall meets the baseboard and where your baseboard meets the floor. Cover your floors with a drop cloth or plastic.
Prepare Your Surfaces
To clean your walls, Dave recommends using dry chemical sponges or mild dishwashing detergent and warm water. Many rooms, such as your kitchen, will have tough grease splattered on the walls, in which case Dave says that homeowners can use trisodium phosphate (TSP) with warm water. You will also need to use TSP or commercial deglosser if you are planning to paint over an area that was previously painted with a glossier finish, to make sure that your new coat will adhere to the surface.
Fix surface imperfections using spackle, a scraper, and sandpaper. You can also use a scraper and sandpaper to remedy cracking or chipping paint, which can be a common problem in older homes.
Remove light fixtures, curtain rods, and outlet covers. While you can cover these edges with painters tape, removing them will both protect their surfaces and ensure that your paint job looks professional.
It's tempting to rush through paint preparations when you are looking forward to a change of scenery in your home, but careful prep work will pay off by making your paint job more durable and beautiful—the perfect update for your home.
This spotlight article was crafted with the help of Williams Professional Painting, a Best Pick Painter in Northern Virginia and Maryland. While we strive to provide relevant information to all homeowners, some of the material we publish may not pertain to every area. Please contact your local Best Pick companies for any further area-specific advice.
Our companies are backed by the Best Pick Guarantee. Call one today!