Window & Door Replacement
Dress Up Your Front Door for the Holidays with These 3 Tips
December 15th, 2015 by
Decorating for the holidays doesn't need to involve completely covering the outside of your home in ribbons and lights. With a little creativity, a snazzy front door design will more than do the trick. Read our three holiday door decorating tips that will help you make a jolly impression this season.
1. Try a Natural Approach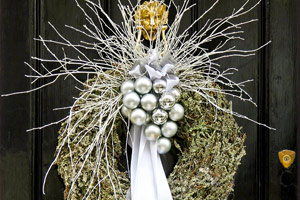 Berries and boughs are always successful holiday design elements, so think about using pinecones, artificial fruits, acorns, and branches to spruce up your door. Differently colored boughs tied together make for great natural adornments, and faux snowflakes and icicles make beautiful, natural-looking additions to wreaths or other decorations. For a DIY twist, consider making your own decorations—such as a wreath or garland—from local flowers or plants that are in season.
2. Think Outside the Wreath
If a wreath isn't your style, there are plenty of other fun, offbeat front door decorating options. Give your door some quirky holiday flair by hanging a seasonally decorated picture frame or medallion or by adding an arrangement of ornaments. You may even want to skip the door itself altogether and make a holiday sculpture or wall art piece to be placed or hung close to the doorway.
3. Think Your Door's the Limit? Think Again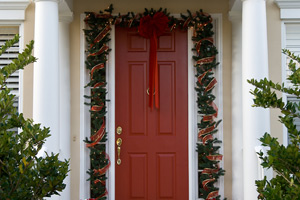 Your decorations don't have to be confined to the door itself. Consider bedecking your porch columns, doorframe, railings, or steps. A string of twinkling lights or curling ribbons can add a great touch to a set of columns or stair railings, and placing a garland or other decorative arrangement around the top and sides of the doorframe can be a nice way to match and enhance the look of your existing door decorations.
There are plenty of fun and festive ways to dress up your door for the holidays. Putting together the perfect winter door decor is a fantastic way to start making the season bright.
Quality matters when hiring for a big project. Call a Best Pick now!