Basement Remodeling & Additions
Basement Window Styles to Suit Your Needs
September 16th, 2013 by
Many basements suffer from poor lighting, giving them a dark and gloomy air. While intricate lighting schemes can alleviate this problem, few things liven up a room quite like natural light.
Whether finished or partially finished, your basement operates under different conditions than other parts of the house, so you'll need to evaluate its unique needs to find the right window system.
Lighting Conditions
When a basement feels stuffy and lifeless, natural light can dramatically improve the mood. In other areas of the home, windows often get covered with drapes and blinds to buffer against drafts, temperature fluctuations, and fabric-fading sunlight, but basements need all the light they can get.
ENERGY STAR suggests that its qualified windows can not only stop heat loss in the winter and heat gain in the summer by 70 percent or more, but they can also reduce fading of fabrics by up to 75 percent when equipped with special Low-E coatings.
With these safeguards in place, you can safely let sunlight into your basement without worrying about increased energy bills or damaged furniture.
Moisture Levels
Poor lighting may make a basement unsightly, but moisture problems can make a basement practically unlivable. When installing windows, explore energy-efficient products that will minimize condensation on the window panes by regulating the temperature on the glass's inner surface.
Also, work with a reputable professional who can install the windows correctly, eliminating air and moisture leaks that could worsen a damp basement situation.
Layout and Space Restrictions
While many basements are fairly large, the lack of sunlight can make them feel cramped. Windows will naturally expand any living space. Speaking with a knowledgeable professional will help refine your window selection, but there are two main style considerations to make: availability of above-ground space and the need for windows that open.
Double- and single-hung windows provide ample sunlight and fresh air when opened, but some can be over five or six feet tall, which is not practical for many basement layouts. Rectangular-shaped picture windows placed near the ceiling are a good choice, but these fixed windows do not open.
However, there are plenty of rectangular-shaped windows that open, such as awning windows that hinge upward from the top, hopper windows that hinge outward from the bottom, casement windows that hinge open from the side, and sliding windows that open horizontally.
Having windows that open can help ventilation problems in a basement, particularly if you plan to paint or do remodeling work in the future.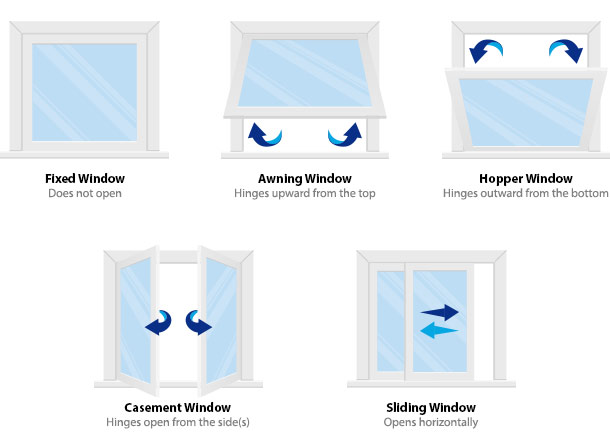 Safety Concerns
Egress window well systems are a great way to bring in natural light and provide safe passage outside for occupants in the event of an emergency.
The 2012 edition of the International Code Council's (ICC) International Code for One- and Two-Family Dwellings states that basements must have at least one egress window system for escape and rescue.
In addition, at least one egress window system is required for each basement bedroom. The ICC is a nonprofit organization established to create a unified and comprehensive building code, so be sure to check with local ordinances to see if there are any additional requirements or exceptions in your area.
Many window styles are suitable for an egress window system as long as they meet ICC code requirements for clearance, which is 5.7 square feet. Homeowners may equip their window well systems with bars, screens, or covers to deter intruders.
However, to allow easy access to firefighters to enter or residents to escape, any covering must be easily opened without the use of special tools or a key.
Fixing up a basement is no small challenge. Between drafts, moisture buildup, and poor lighting, it can seem unimaginable to find yourself in an inviting, comfortable basement.
However, allowing natural light into this space with a smart window scheme will soften the gloomy air that plagues so many basement settings.
Our companies are backed by the Best Pick Guarantee. Call one today!