Housecleaning Services
13 DIY Cleaning Potions You Can Brew at Home
October 21st, 2015 by
Everyone loves a clean home, but the indoor pollutants produced by many common cleaning products can leave homeowners cursed with headaches, dizziness, and allergic reactions. Brewing up your own all-natural cleaning products at home will help you avoid the spooky consequences of misusing or overusing chemical cleaners, with the added bonus of shrinking both your cleaning budget and your carbon footprint. Here are a few wickedly inventive DIY cleaning products you can conjure right out of your cabinet.
Always Useful
To Make a Mirror Shine, mix 1 cup of vinegar with 1 cup water; then, add 1/4 cup lemon juice. Use on windows and glass, and wipe off with a paper towel.

To Banish Germs, mix together 3 cups water and 1/2 cup white vinegar. Then, add 15 drops essential oil, preferably lavender or tea tree, for extra disinfectant power and a great scent.

To Ward Off Any Filth, combine 2 cups water, 1/4 cup lemon juice, and 1 cup hydrogen peroxide, which cleans nearly as powerfully as bleach but is far less hazardous, for a versatile and effective all-purpose cleaner.

To Vanquish Mold and Mildew, mix 1/2 cup water with 1/2 cup distilled white vinegar and 20 drops tea tree oil. This more concentrated version of the all-purpose cleaner will drive away mold and should be used daily for optimal effectiveness.
In the Kitchen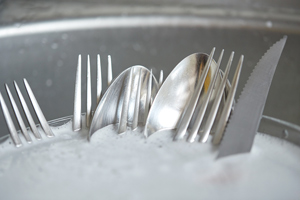 To Protect an Oven from Grime, begin with warming the oven by using the self-clean setting or by turning it to about 125 degrees. Spray a mixture of water and vinegar over the warm oven; then, pour salt or baking soda over the dampened areas. Once the oven has cooled down, scrape or wipe the grimy areas clean.

To Purge a Garbage Disposal, pour 1 cup vinegar in an ice cube tray, evenly distributing it among the compartments. Fill the remaining space with water, and freeze. Dropping a couple of cubes down the garbage disposal and running it will dissolve food caught on the blades.

To Scour a Cast-Iron Pan, combine olive oil or vegetable oil with 1 teaspoon coarse salt. Add this mixture to a cast-iron pan, and use a stiff brush to scrub. When the pan is clean, rinse it off with warm water.

To Clean the Dishes, add 2/3 cup liquid castile soap, 3 teaspoons vegetable glycerin, 5 drops tea tree oil, 20 drops lemon essential oil, and 1 and 1/3 cups water to a squirt bottle, and shake the mixture thoroughly.
In the Laundry Room
To Dispel Dirt from the Laundry, add 1/4 cup coarse salt, 1/2 cup citric acid, 1/2 cup baking soda, and 1 cup washing soda to 1 bar finely grated glycerin soap. Mix the ingredients well and place them in a tightly sealed jar. Add 1 to 2 teaspoons to each load to freshen up your clothes.

To Cast Away Stains, combine 1/2 cup dishwashing liquid and 6 tablespoons baking soda in a mixing bowl and stir them into a paste. Slowly add 1/2 cup rubbing alcohol and 1 and 1/2 cups warm water to the paste. Then, funnel the mixture into a spray bottle. The next time you find a stain on your clothes, give it a spritz from the bottle and leave it alone for 20 minutes before putting the clothing item in the laundry.
In the Bathroom
To Polish Tile and Grout, combine water and baking soda into a paste and use a brush to work the mixture into the grout. Then, spray the area with a solution of equal parts water and vinegar. Let it all sit for a few minutes before scrubbing, and then wipe things clean with warm water.

To Cleanse a Toilet Bowl, pour first 1/2 cup baking soda, then 10 drops tea tree essential oil, and then 1/2 cup distilled white vinegar into the toilet bowl in that order. Allow the mixture to work on its own for a few minutes before cleaning the bowl with a toilet brush and flushing.

To Purify a Dirty Shower, mix 1 cup vinegar, 1 cup dish soap, and 1 cup water in a spray bottle. Spraying the shower every time you use it will help lengthen the amount of time you can go without needing to give things a serious scrubbing.
Potioneers, beware: never mix any ammonia-based products with anything that contains bleach, including powdered dish detergent; this combination produces fumes that are extremely dangerous. Also, some essential oils have been known to cause allergic reactions, so make sure you know what to do in the event that an essential oil triggers your allergies. Essential oils have antifungal and antibacterial properties, but if you know that you'll have an adverse reaction to using them, it's better to leave them out just to be safe.
These DIY solutions will give your cleaning routine a personal touch and save you from the ghastly effects of chemical fumes.
Our companies are backed by the Best Pick Guarantee. Call one today!