Kitchen & Bathroom Remodeling
Spruce Up Your Kitchen with 3 Small Changes
September 11th, 2015 by
If your kitchen is feeling a little cramped or outdated, you may think that you need to spend a fortune to completely transform it. But you can easily convert your drab kitchen into a room that you love with these easy kitchen makeover ideas.
Deep Clean Your Kitchen. One way to instantly transform your kitchen is to give it a deep cleaning. Your kitchen can collect a lot of dirt and grime from weeks of use. A top-to-bottom scrub of your floor, walls, and appliances will give you a nice, clean slate for the rest of your kitchen makeover.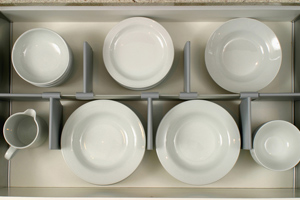 Organize Your Kitchen. Once you've removed the dirt, grime, and crumbs from your kitchen, it's time to tackle any areas of clutter and disorganization. Start by tossing anything that you no longer use. Next, determine if you need to reorganize your pots and pans. Kitchens of any size would benefit from installing a ceiling-mounted pot rack. A lazy Susan or a pull-out cabinet can offer additional storage options. For colorful pots and pans, consider displaying them on a wall shelf as art.
If your collection of plastic containers mostly consists of mismatched tops and bottom, it may be time to purchase a new, matching set. Pick a set that includes interlocking lids, or consider purchasing glass containers instead. Some glass storage containers can even double as baking dishes, which makes cleanup for leftovers even easier.
Drawers used for utensils and gadgets can be another source of frustration. Place larger utensils, such as ladles, large spoons, and spatulas, in a utensil crock on the counter. For smaller kitchen gadgets, invest in a utensil drawer with compartments that will allow you to keep your drawer clutter-free.
And we can't forget to reorganize the pantry, which could be done when you deep clean the kitchen. Get rid of any items that have expired or that you no longer need. Purchase plastic or glass containers to store staple items, such as flour, sugar, and rice. Group together similar items and store them in bins or baskets to save space.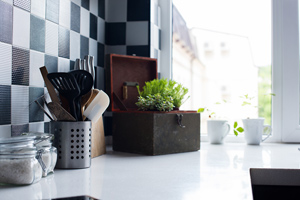 Change Your Décor. Your kitchen should feel like a brand-new room after cleaning and reorganizing everything. But it may still require some additional finishing touches to really take it to the next level. Updating your backsplash, installing new fixtures, or increasing the lighting all lend a hand in significantly changing the look of your kitchen.
Updating your kitchen can be even simpler than adding a new coat of paint. A fresh arrangement of flowers on the island or a new window treatment are simple additions that can breathe new life into your kitchen.
Clearer countertops can also drastically change the appearance of your kitchen. Make sure to clear them of any unnecessary clutter. Small appliances, like blenders or coffeemakers, can take up space, so store them in a cabinet if they're not used heavily. Take it a step further and replace any old containers or canisters with new ones. Go for colors that complement the current theme of your kitchen.
Some of these small changes are not limited to the kitchen and can be applied to any room that needs a little sprucing up. Without spending a fortune, you can revitalize any room in need of love and attention and create a space that you can fall back in love with.
Quality matters when hiring for a big project. Call a Best Pick now!