Electricians
Make Your Life Easier with Home Automation
October 26th, 2015 by
Our top four posts to guide you into home automation heaven. Advancements in technology have provided us with numerous conveniences. While some people may argue that technology has complicated our lives, there's no denying that humanity has benefited from technological innovation. Home automation solutions are all about outfitting your home with the latest tech in order to simplify your everyday life.
What Exactly Is Home Automation?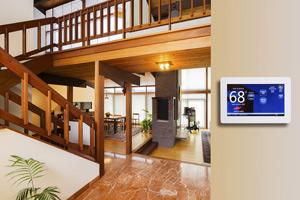 A home automation system allows you to control different parts of your house with a computer or mobile device. There are a number of things that you can automate in your home, ranging from simple solutions to those that are more technologically complex. It's possible that you have a few automated devices already; programmable thermostats, alarm systems with remote access, and automatic sprinkler systems are commonplace. To learn more about how to get started with home automation, check out the blog posts below. They will help you seamlessly navigate through the automation world.
Keep Life Simple with a Home Automation System
A great starting point for simple home automation solutions. Smartphones and tablets have simplified some of the complexities of home automation. Now the average homeowner can easily automate a number of things in the home—appliances, entertainment systems, and security systems, to name a few. Technologically savvy homeowners can even turn their homes into a fully automated castle with a whole-house system. For those who are less skilled, a professional can help to install automation systems.
Z-Wave Switches: Are They the Way of the Future?
Once you've mastered the basics, you can dive deeper into the automation world with Z-Wave technology. This post explains Z-Wave tech and lists the many advantages of adding Z-Wave switches to your home. You can control your lights, thermostat, or security system from your smartphone or tablet whether you're at home or miles away.
A Day in the Life of an Automated Home
Would you like to know how an automation system can improve your daily life? This post will take you through an entire day and show you what parts of your home you can automate. You'll learn how these innovative products can make your life easier—leaving time for you to concentrate on more important things.
5 Home Automation Alerts You're Missing Out On
Besides being able to control your entire home with the touch of a button, a home automation system can send you alerts to help you monitor your house. This post will show you how to get the most out of your home automation system by utilizing safety and energy management alerts. Safety alerts can notify you when someone accesses an entry point, or they can even detect a fire in your home. Energy management alerts can help you conserve energy and save money on your electricity or heating and cooling bills.
There are many home automation products and devices on the market. The different possibilities can be overwhelming, but if you keep in mind your purpose for adding automation to your home, you can avoid feeling lost in the maze of choices. Start small and add functions based on what makes sense for your lifestyle. Installing home automation can be a fun upgrade that simplifies your everyday life and impresses your friends and neighbors.
Our companies are backed by the Best Pick Guarantee. Call one today!