Kitchen & Bathroom Remodeling
Efficient Kitchen Layouts to Make the Best Use of Your Space
January 17th, 2014 by
Moving between the stove, fridge, pantry, and sink can sometimes begin to resemble a well-crafted dance. As you transform ingredients into a meal, the steps you take in your kitchen—small or large—add up. If you spent any time cooking or baking during the past few months, you have probably noticed that your kitchen's layout isn't as efficient as it could be.
The Work Triangle
Most home cooks spend a great amount of time moving between the sink, range, and refrigerator. An efficient work triangle has enough space between each workstation—too far apart means more walking, and too close together means less space for cooking. No more than 12 to 26 feet should make up the total length of each side, or leg, of the triangle, and the triangle should feature ample floor and counter space. Make sure that your flow from station to station isn't interrupted by outside traffic. If possible, position your work triangle away from the flow of traffic. Most kitchens will fall within one of the following three layouts: galley, L-shaped, and U-shaped.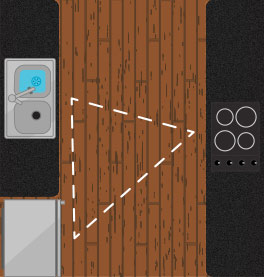 Galley. A galley kitchen consists of two facing walls. The space between each station of the galley triangle can be smaller than the U-shaped or L-shaped styles. On the downside, this style also has poor traffic flow. Placing the refrigerator near the outer edge of the work triangle will help eliminate traffic jams and work interruption. Before buying new appliances, measure the area in front of where the appliance will sit to make sure that the doors will open uninhibited.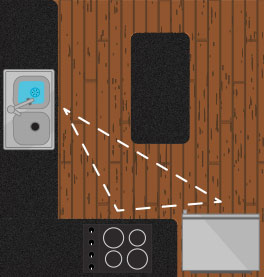 L-shaped. An L-shaped kitchen provides a more private cooking experience by allowing traffic to flow outside of the work triangle. The refrigerator can be placed on the outside of the triangle for easy access. An island across from the work triangle will give you additional workspace and allow your family to mingle with you while you cook.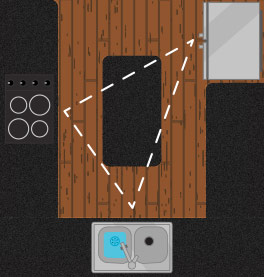 U-shaped. If you've moved from a galley or L-shaped style to a U-shaped kitchen, you'll immediately notice the additional storage and counter space. There may also be an increase in space between each station of your work triangle. Now that you have more space, you can also add an island to provide more surface area for your kitchen workflow and a place for your family to join in the fun.
Zones
If your kitchen has become your second family room, then you should use zones as a way to organize your space. The work triangle doesn't address the modern kitchen, which has become more of a multipurpose room. Zones allow you to divide your kitchen based on the different tasks you perform within the space. Zones are typically created for the following: storage for dishes, food, cleaning products, and trash; and space for food preparation, cooking, entertaining, dining, and working.
To determine what zones you will need in your kitchen, spend a couple of days identifying the main tasks you perform on a daily basis along with more infrequent activities. Once you've divided your kitchen into zones, organize each section with only the essential items needed to perform the task for that area.
A more efficient kitchen is within reach with proper planning and organization. Using any of the layout methods mentioned above will make the dance around the kitchen easier on your feet. There's no need to choose just one style, though: zones can be used in conjunction with the work triangle to truly enhance your efficiency. Spend some time in your kitchen and customize it specifically for your space and family.
Our companies are backed by the Best Pick Guarantee. Call one today!