Kitchen & Bathroom Remodeling
9 Mistakes New Homeowners Don't Know They're Making
May 4th, 2015 by
The papers have been signed, and you finally hold the keys to your dream home. The excitement of owning a new home can easily overshadow the fact that you are entering into new territory. Owning is very different from renting, and if you're a new homeowner, mistakes can easily occur. Read the following tips to keep you from making these mistakes in your new home.
Remodeling Mistakes
Your first remodeling project can easily turn from overwhelming excitement to extreme disappointment. In order to avoid common remodeling mistakes and get the results you desire on your project, follow these tips: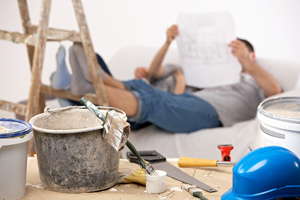 Don't forget to do your research. Even if you're hiring a contractor to complete your home renovation, it's important to know what you're getting yourself into before you begin any major project. In order to know what to expect, research the details of the project.
Don't forget the permit. If you hired a reputable contractor, then you can count on him or her to handle the permit process before the project begins. However, if you are tackling a DIY project, you will have to obtain the permits yourself. It's important not to skip this vital step. If a project is completed without a permit, it's possible that it wasn't completed to code, which could cost you a fine—or worse, you could be forced to redo the project to correct the violations.
Don't hire an unqualified contractor. Hiring a quality contractor is essential to getting long-lasting, beautiful results. Check out our blog to learn more about how to choose the right contractor for your project.
Don't buy cheap materials. Remodeling projects can be expensive, and you could be tempted to cut corners in order to cut cost, but one thing you shouldn't do is buy cheap materials. Experts recommend that homeowners wait until they're able to afford the project instead of purchasing cheaper materials that could produce lackluster results or jeopardize the quality of the project.
Don't skip the prep work. A major remodeling project will require some type of prep work. Whether that requires you to remove hardware, repair holes, or replace damaged areas, it will save you time and money down the line if the prep work is done correctly from the beginning of the project. Whether you choose to go the do-it-yourself route or you hire a contractor, make sure that the prep work is included in the scope of the project.
Don't use the wrong tools. Using the correct tools is essential to successfully finishing any remodeling project. Not only will you receive the desired results, but you'll also ensure your safety in the process.
Don't ignore lighting. Before overhauling any room in your home, consider the lighting in that space. If you plan to change the colors in the room, order swatches and determine if the color fits with the current lighting. You may need to choose different colors or add additional lighting to get the look and feel that you desire.
Don't be too trendy. Putting trendy features in your home can quickly add a luxurious feel to an outdated space. But after a new trend emerges, your once stylish space soon becomes outdated yet again. Stick to classic features for more permanent fixtures, and choose decor that can be easily removed and updated as the trends change.
Maintenance Mistakes
Don't ignore routine maintenance. Perhaps one of the most important things that new homeowners often neglect is following a routine maintenance schedule. If you're accustomed to renting, then you're probably not used to maintaining the property or paying for maintenance costs.
Mistakes happen, but perhaps the best way to avoid any major mistakes as a new homeowner is to be prepared and to do your homework beforehand. Whether you're looking at a remodeling project or just researching how to properly maintain your home, with the proper foresight, you'll be able to extend the life of your home and enjoy it for years to come.
Quality matters when hiring for a big project. Call a Best Pick now!