Kitchen & Bathroom Remodeling
5 Benefits of a Kitchen Island
September 7th, 2015 by
When it comes to kitchen remodeling, islands are all the rage. No matter the size of your kitchen, there are many types of kitchen islands to choose from—from mobile kitchen island carts to islands with enough seating to replace your dinner table. While there aren't really any drawbacks to having a kitchen island, there are several reasons to add one to your kitchen.
1. Additional Storage Space
Probably the most appealing feature of a kitchen island is more storage space, especially if your islandless kitchen has very little. If you dream of a kitchen island with storage, you can design one with cabinets or shelving underneath or above it. There are endless customizable storage options to consider as well—anything from a built-in wine rack or coffee mug holder to hanging utensil racks.
2. Casual Seating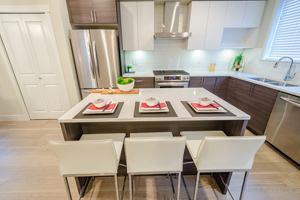 For those who are frustrated by a lack of kitchen seating, an island can provide a place for family and friends to sit while meals are being prepared. It's also a great place for kids to do homework, watch their parents cook, and perhaps learn to cook themselves. Large kitchen islands can seat as many as six people, but even small kitchen islands typically have space for two seats.
3. Extra Appliances and Outlets
If you've ever wished you had enough room in your kitchen for a second heating range or that deluxe espresso machine you've been eyeing, keep in mind that electricity, gas, and plumbing can be hooked up to a kitchen island. Adding electrical outlets will allow you to operate small appliances on your kitchen island, and large appliances such as a dishwasher or oven can be installed in the space beneath the countertop.
4. A Separate Workstation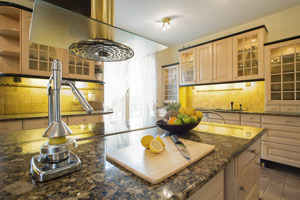 If you tend to spend most of your time in the kitchen doing a specific type of cooking task, you can design your kitchen island to be a specialty workstation. For example, include a sink, a built-in cutting board or chopping block, a knife sharpener, and a lot of open counter space, and you have a prep station. If you'd rather have a baking station, opt for an oven, built-in cooling racks, and additional outlets for baking-related appliances, and customize your island storage to accommodate items like baking sheets and mixing bowls. There are countless possibilities.
5. A Focal Point
In addition to its practical uses, a kitchen island can highlight the overall style of your kitchen as well as give guests something to focus on other than a wall of cabinetry. Take advantage of your island's eye-catching nature to underscore your personality. Use it to display your favorite cookbooks, for instance, or create an exhibit of your children's artwork.
Because it provides additional storage and counter space, a kitchen island can increase the value of your home, and as a design element, an island adds something special to an otherwise typical kitchen. If you're interested in incorporating an island into your kitchen remodel, get in touch with a local Best Pick kitchen remodeling contractor.
Our companies are backed by the Best Pick Guarantee. Call one today!