Window & Door Replacement
12 Easy Ways to Boost Curb Appeal
June 17th, 2015 by
Most homeowners are well aware that high-cost renovations like new siding, a new roof, or a major landscaping overhaul can boost a home's curb appeal, but not everybody has the time or money to dedicate to such large-scale projects. The following list of relatively small-scale home updates will give your family an idea of how to increase curb appeal without an overwhelming amount of effort.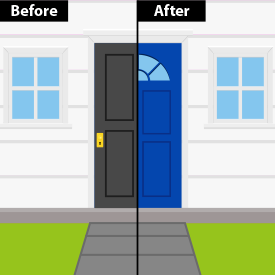 1. Front Door
Making the front door the focal point of your home will instantly make your house look more inviting. Choose a door that showcases your house's character, or paint your current door a color that really pops yet complements the rest of the home's exterior.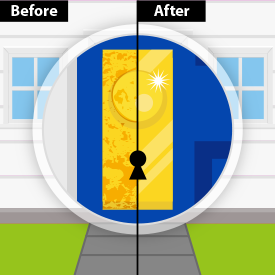 2. Hardware
Because outdoor hardware is constantly exposed to the elements, it can begin to look worn out fairly quickly. Replacing hardware, such as doorknobs, locks, and even hinges, is a simple and relatively inexpensive way to freshen up the appearance of your home.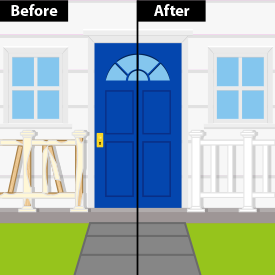 3. Railings
Make sure the railings on your stairs, porch, or deck look crisp and clean—not to mention secure. Touch up the paint or restain if necessary.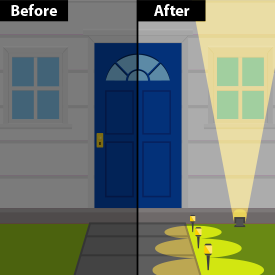 4. Outdoor Lighting
Well-placed outdoor lighting can dramatically change the atmosphere of your yard. Highlight cozy seating areas, walkways, or landscape elements to boost curb appeal with minimal effort.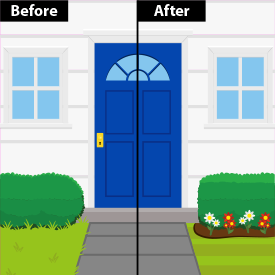 5. Front Yard
Take advantage of easy landscaping ideas for your front yard, which can be as simple as planting some of your favorite flowers. Keep your yard tidy by weeding around any plants and cutting the grass regularly.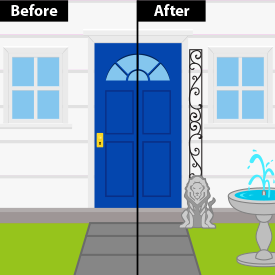 6. Outdoor Art
Outdoor art and hardscaping add personality to your yard and demonstrate that your home is enjoyable out of doors as well as in.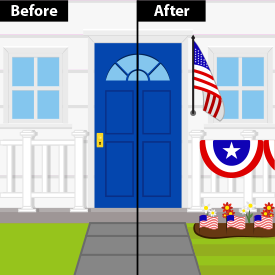 7. Seasonal Accents
Dress your home for the season with exterior decor appropriate for the time of year, such as a birdbath or two in spring; red, white, and blue colors in summer; pumpkins in fall; and reindeer or decorative snowflakes in winter. Doing so makes your house more appealing and shows passersby that you take pride in your home.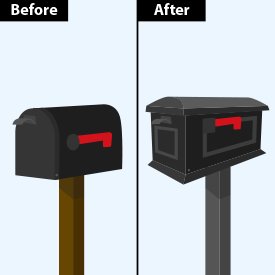 8. Mailbox
Swap out your run-of-the-mill mailbox for one that matches the overall look of your house and outdoor space.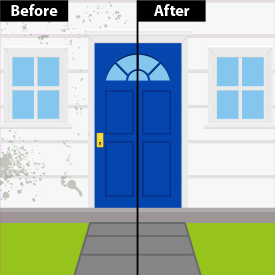 9. Clean Up
A dirty house or unkempt yard is just not going to be very appealing, but improving your home's appearance can be as easy as calling in a professional to power wash the siding. Removing or hiding eyesores in the landscape will also go a long way toward boosting curb appeal.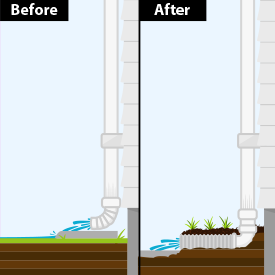 10. Gutters and Downspouts
New or well-maintained gutters and downspouts do far more than direct rainwater away from your house's foundation—they also give your home a nice, put-together look.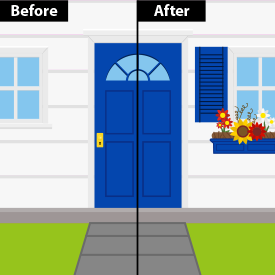 11. Shutters and Window Boxes
Windows tend to draw attention, so why not make them worth looking at by putting up shutters that coordinate with the rest of the house's exterior features? If window boxes would fit in, consider adding those as well, but only if you're up to keeping any flowers planted in them looking their best.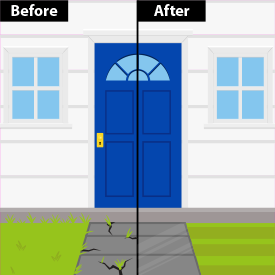 12. Driveway or Walkway Repairs
Cracks with weeds growing out of them have a way of making a house look like it's fallen into disrepair. Getting those filled will make your house look more homey and loved.
Increasing your home's curb appeal doesn't have to be difficult or time consuming. Set aside a weekend or two to accomplish some of the above projects, and you'll be well on your way to a warmer, more inviting exterior.
Our companies are backed by the Best Pick Guarantee. Call one today!