Kitchen & Bathroom Remodeling
Your Ultimate Bathroom Renovation Timeline (Part 2 of 2)
September 4th, 2015 by
Earlier this week, we offered a few suggestions on how to establish and follow a reasonable timeline when outlining the planning stages of a bathroom renovation project. Forming a good idea of how long each step should take is every bit as important in planning a successful, low-stress bathroom makeover. For a general idea of how much time you should expect to spend on each stage of the renovation process, read on.
How Long Should Each Stage of the Renovation Schedule Take?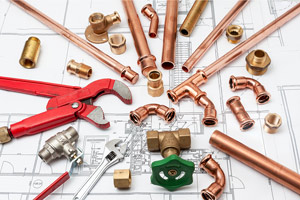 The first week will likely be spent demolishing your bathroom and completing any structural reinforcement work that you'd like to have done. Structural reinforcement isn't completely necessary, but it's a good idea to make sure you have a solid foundation before you begin working. This is also the time to drill any holes you'll need if you're installing new pipes and to have your bathroom ceiling replaced if you want to.
During the next few days, set aside a day or two to have new plumbing installed and new electrical systems hooked up. Plumbing work should take about two extra days to complete if you're planning to have a shower or tub moved.
The third week of work can begin once the bathroom is stripped and utility work is finished. At this point, insulation can be installed, and drywall hanging can begin after that. Insulation takes about half a day to install, and it's best to begin hanging drywall immediately after you're done putting insulation in. Drywall only takes about one day to hang, but it could take extra time to dry—the more plaster is applied, the longer it will take to dry. Plan for up to a week to allow your new drywall to finish drying.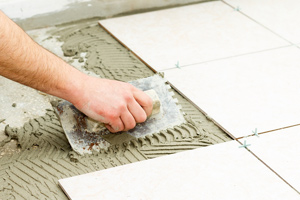 Another week to a week and a half will likely be spent installing all the new surfaces and coverings of your bathroom, such as tiling, flooring, and cabinetry. Tiling can begin once your drywall is done drying and normally takes about three days to complete. Cabinets take around one day to install. The time it will take to have your new floor put in will depend on the type of floor you've chosen; vinyl flooring only takes a few hours to install, but tile or hardwood floor installation will likely require a full day of work.
One more day should cover the process of having your new sinks and toilets connected to water lines.
Throughout the project, make sure everything is going according to the timetable agreed on by you and your contractor, but be flexible—some things may take longer than you anticipate, so you'll want to plan for any extra time the project might end up taking.
Spending time with contractors to come up with a good timeline before you begin your renovation can make your project much simpler, and having an idea of how long each step of the process should take will go a long way toward helping you keep your whole renovation on track.
Click Here to View Your Local Best Pick® Bathroom & Kitchen Remodeling Contractors

Sources: 21st Century Woman; HGTV.
Our companies are backed by the Best Pick Guarantee. Call one today!