Pool Companies
Winterize Outside Your Home in 4 Steps
November 18th, 2015 by
When it comes to how to winterize your home, it's just as important to keep the outside of your home prepared for the cold as it is to make sure you can light a fire in the fireplace. Keep reading for some suggestions on how to help your lawn, landscape, and exterior features stay shipshape all winter long.
Don't Let Your Gutters Clog Up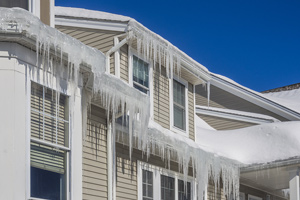 Clean debris out of your gutters to keep them from filling up with rain or snow, and when temperatures drop below freezing, look out for ice dams. You can prevent ice dams from forming by making sure your home and attic are properly insulated and by finding and sealing any air leaks.
If you do spot an ice dam, contact a professional to have it taken care of because handling it yourself could be dangerous. Get informed in the event that you do need to deal with an ice dam.
Keep Your Walkways Safe
Make sure your steps and handrails stay clear of snow, and be cognizant of any cracks in the patio, foundation, or driveway. Remove any snow or ice as it piles up in the driveway because it's important that in the event of an emergency, nothing is in the way of any vehicles that might arrive to help.
Prepare Your Pool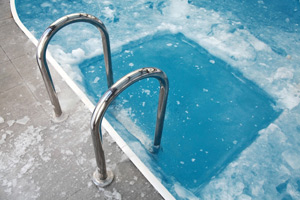 Frozen water isn't just unpleasant to deal with; it can actually damage pool equipment, so it's a good idea to drain your pool and cover it during the winter.
Though running water doesn't freeze as easily as standing water, you may also want to consider draining and covering your outdoor water features as well, depending on your climate.
Follow the steps you need to prepare and disconnect your equipment and pumps, and learn how to winterize your home's water features.
Protect Your Landscape
Laying mulch around your trees, shrubs, and other plants will insulate them from the cold and help them preserve water. Remove any yard or branch debris, and prune your trees before temperatures drop too low in order to avoid danger from icy tree limbs.
Be careful around any frozen or icy branches that look like they might fall. Here are a few more helpful tips on how to keep your trees safe and get your plants ready for cold weather.
Knowing about the different ways to winterize your home makes you a smart homeowner. Taking the initiative to prevent winter maintenance issues before they become issues at all can help you enjoy a cozy, stress-free holiday season.
Our companies are backed by the Best Pick Guarantee. Call one today!